If you ever dreamed of turning your home into a masterpiece of interior design, then this blog post is for you. Transforming the dullness and monotony of white walls into something more visually pleasing has never been easier. With a few simple painting house interior ideas, you can easily make your home look more inviting and stylish. In today's blog post, we will go through seven creative painting house interior ideas that can help you make a dramatic transformation.
Let's Get Painting!
Painting House Interior Ideas: Choosing The Right Paint For Your Home
Choosing the right type of paint for your home interior can be a tricky business. Not only do you have to consider the color, the finish, and the durability, but you also have to take into account factors such as the environment in which it will be used and the climate of the area.
First, it's important to determine the type of paint you want to use. Water-based paints are usually the most popular choice because they're easy to clean up, fast-drying, and can be mixed with various additives to achieve different sheens. However, if you want a more vibrant look, you can opt for oil-based paints instead. These provide more vivid color, although they may require more maintenance and can be harder to clean up.
Once you've selected the type of paint, you should decide on the finish. Eggshell, matte, or semi-gloss are the most common choices for interior walls, and each provides a distinct look. Matte paints provide a satin finish that doesn't reflect light, while eggshell is more resistant to dirt and marks, and semi-gloss has a glossy finish that is easy to clean.
It's also important to take into account the climate of the room where the paint will be used. In humid areas, such as bathrooms and kitchens, it's best to use paint with a higher level of water resistance, as this will help prevent dirt and water from penetrating the walls. On the other hand, in dry climates, it is usually better to use paint with low moisture absorption, so that it will not crack or peel over time.
Finally, when selecting interior house paint, price should also be taken into account. While water-based paint is often the more affordable option, oil-based paint can last much longer and can be more cost-effective in the long run.
Painting House Interior Ideas: Making A Statement With Geometric Patterns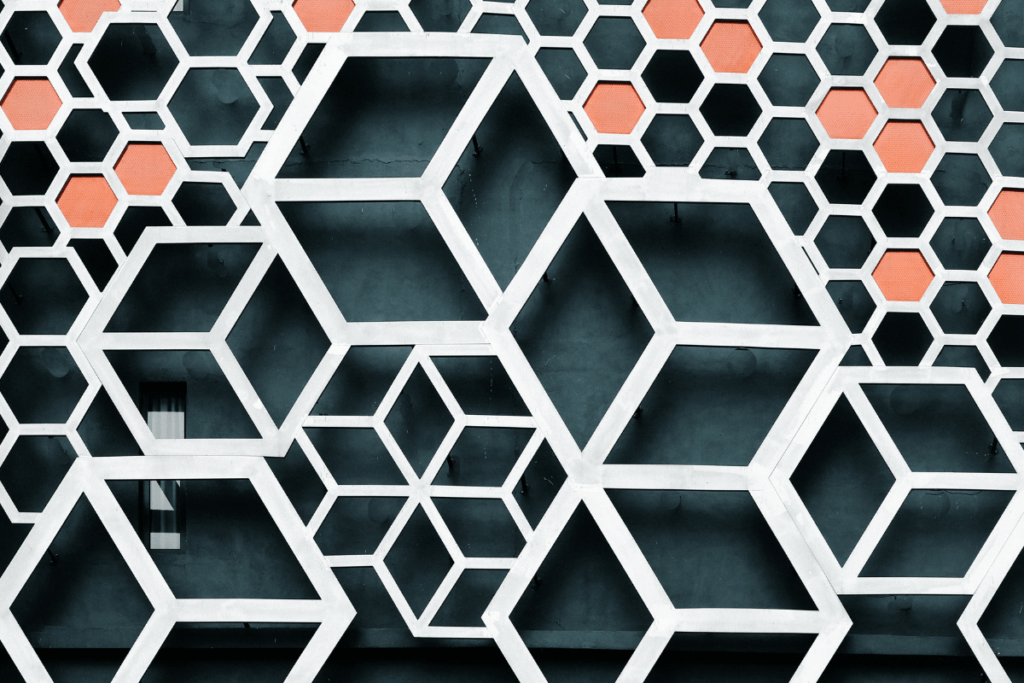 Geometric patterns are a great way to amplify the style of your home's interior and make a bold statement. Whether you opt for modern abstract designs or more traditional patterns, these bold shapes can instantly transform the look and feel of any room.
Incorporating geometric shapes into your home's interior is easier than you might think. There are numerous ways to make use of geometric patterns in your decor. Painting is one of the simplest and fastest ways to incorporate these shapes into your home. You can paint an entire wall in a geometric shape, or create a border along the ceiling or around the windows. You can also choose to paint geometric patterns on your floors. If you are new to painting with shapes or patterns, consider starting off with something simple like stripes or chevrons.
Creating a stylish and modern look in your home using geometric patterns doesn't have to be expensive. With these creative painting house interior ideas, you can instantly transform your space. But if you need assistance in turning this idea into a reality, our remodeling and renovation services will surely help!
Painting House Interior Ideas: Decorative Stripes For A Unique Touch
Stripes are a great way to add a unique touch to any home interior. Whether you are looking to tackle a task as small as a single wall or decorate an entire room, decorative stripes can completely transform the look and feel of a space.
Change up the thickness of your stripes. Painting stripes of varying widths can create an interesting wave-like effect in a room, adding movement and character to an otherwise plain space. For a more measured look, try using painter's tape along your wall as a guide to keeping everything even.
Create a herringbone pattern. Using the same color or two contrasting tones can add beautiful visual texture to walls. Simply use the tape technique to create your design before painting, or take it to the next level with a pattern roller.
Go diagonal. Add a bit of unexpected edge to vertical or horizontal stripes by creating a diagonal pattern. Consider using complementary colors for an even bolder look and start from the center of the wall to maintain angular accuracy.
Paint stripes of varying lengths. An easy and effective way to achieve visual interest on any wall is by painting vertical stripes of different lengths. Stick with a single tone, or mix it up with a variety of hues in the same color group.
Try ombre stripes. A gradient ombre effect can brighten up any dark interior. Simply pick out a selection of hues in the same color family and paint multiple, evenly spaced vertical or horizontal stripes starting with the lightest shade on the far left or top and ending with the darkest on the far right or bottom.
Create a visually arresting chevron pattern. This classic design pattern is the perfect way to bring a touch of sophistication to your walls without being overly busy. Start by mapping out the design with tape, and then use a stencil or a combination of two tones to complete the look.
Painting House Interior Ideas: Color Blocking Techniques
Color blocking is a popular interior painting technique that can help transform your home into something truly amazing. It involves combining two or more colors in one room to create a dramatic statement and visual interest.
Light and dark color scheme. One of the most popular color-blocking techniques is to combine light and dark shades in the same room. This creates a unique contrast that can be used to emphasize certain features in the room, such as an accent wall or a fireplace. You can also use this technique to create visual interest by combining bright and muted colors in the same space.
Color blocking with neutrals. Another great way to use color blocking is to combine neutrals with a bold color. This will draw the eye to the bright hue, while still keeping the overall room looking calm and inviting. This is also a great way to add a touch of color without taking away from the neutral background.
Striped feature walls. One of the more popular color-blocking techniques is to create a striped feature wall. This involves painting alternating stripes of two or more colors onto a single wall, creating a unique and eye-catching look. This is also a great way to create a focal point and bring attention to a certain area of the room.
Ombre color scheme. Another way to use color blocking is to create an ombre color scheme. This involves using a light shade at the top of the wall and gradually transitioning to darker shades towards the bottom. This is a great way to add depth and dimension to a room without having to directly color block.
Painting House Interior Ideas: Creative Texturing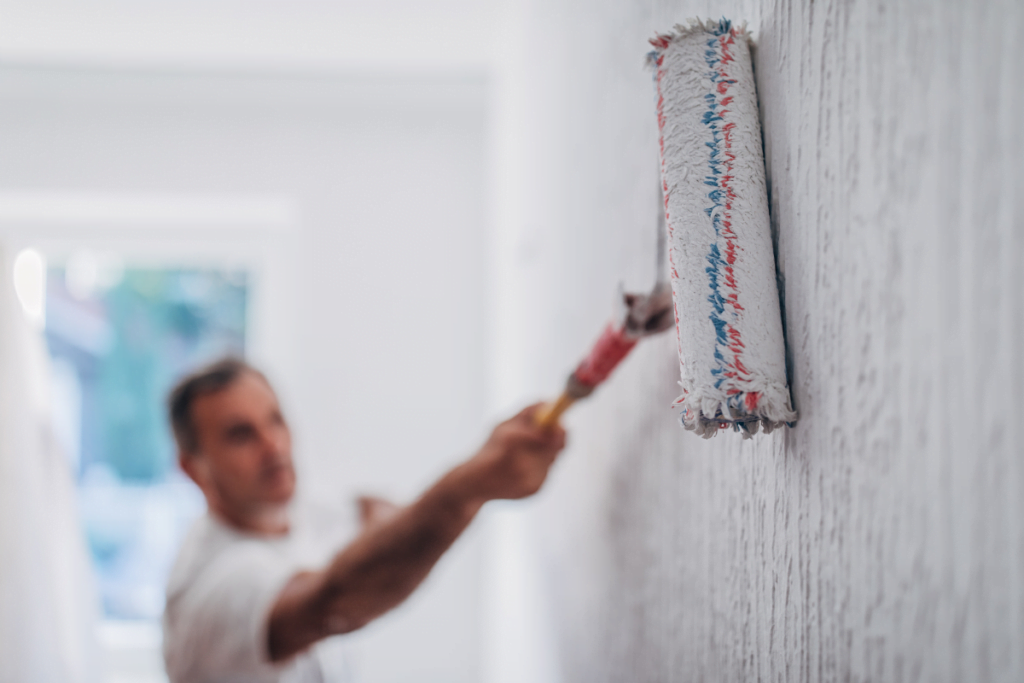 Texturing is a great way to add depth and dimension to your space without adding any more color.
One popular technique is using sponges to texture the walls. The sponge's texture will create a unique and interesting effect, which you can apply with a flat or diagonal stroke. You can also buy stencils to create an interesting pattern or design on the walls. By combining several different types of textures in the same area, you can create an eye-catching look.
If you're looking for something a bit more dramatic, you could try ragging the walls. This is a method of dragging wet paint over the walls with a rag to create a unique texture and pattern. This can create a stunning effect that looks like velvet on the walls. You can also mix colors together while ragging to create a beautiful blend of shades.
Another creative painting house interior technique is to create a marbling effect. To do this, you'll need two contrasting paints and a painting tool such as a toothbrush or an old credit card. Dip the tool into both paints, then flick it onto the wall to create an interesting pattern. You can even add a few drops of rubbing alcohol to the mixture for a more accurate marbling effect.
You can also try creating a metallic effect with paint, which can be quite eye-catching. Use metallic paint and combine it with a matte finish topcoat. The combination of the two will create a unique sheen that looks very effective on walls and also works well on wood.
For something more subtle, you could try stippling. This technique involves tiny dots being dabbed onto the walls to create a subtle textured effect. You can use different-sized brushes to create varying-sized dots, and you should always keep your stipple lines small and consistent.
Finally, you could try using a feather duster to add texture. This is a really simple way of adding texture to walls and requires no special painting skills. You can also buy special feather dusters for painting, which make applying the texture easier.
Painting House Interior Ideas: Adding Visual Interest With Stencils
Stenciling your walls is an easy and effective way to add visual interest to your home's interior. Stencil patterns can be subtle or bold, with single colors or multiple shades. There is a myriad of stencil designs available, from geometric patterns to abstract flourishes and everything in between.
When choosing a stencil design, pick something that reflects your personal style and the overall feel of the room. Many modern designs feature intricate lines and textures, but for a more classic look, opt for traditional motifs such as floral patterns. If you're feeling extra creative, create your own stencil pattern from a cut-out of your favorite shape or design.
Before beginning your stencil project, make sure to protect your workspace. Place a drop cloth over any furniture and flooring in the room, and tape the edges of the cloth down for extra security. Cover the wall you plan to stencil with a layer of primer for better adhesion of paint and to create a more even finish. It's also a good idea to practice your pattern on a large cardboard or plastic sheet before committing it to your wall.
When you're ready to begin, you'll need a few tools: a stencil, paint roller, stencil brush, sponge, and a level.
Place the stencil firmly on the wall and use a level to make sure it's straight.
Using a paint roller, roll paint over the stencil, taking care to not apply too much pressure that could move the stencil or cause the paint to bleed underneath.
Add extra detail with a stencil brush or sponge, if desired.
Remove the stencil carefully to reveal your design.
Painting House Interior Ideas: Painting Furniture For A Fresh Look
Painting furniture is an easy and affordable way to give your home a fresh look. Whether you want to give a tired dresser a brand-new look, or you want to spruce up the kitchen chairs with a splash of color, painting furniture can be a fun and rewarding experience.
Before you start painting, you'll need to make sure your furniture is prepped correctly.
Start by sanding the surface of the furniture to remove any existing paint or scratches.
Then, use a damp cloth to remove any dirt, dust, and grime.
Once your furniture has been prepped, it's time to get painting!
Some of the most popular painting techniques for furniture include staining, spray painting, brushing, and dry brushing. Each of these methods will give your furniture a unique look, so experiment with different paints and finishes to find the look that works best for you.
Wrapping Up: Letting Your Inner Artist Shine
When it comes to painting house interior ideas, the options are seemingly endless. Whether you're looking to make a few subtle changes or completely transform your home, the possibilities are virtually limitless.
If you're feeling stuck and don't know where to begin with any of these painting house interior ideas, consider speaking to a professional remodeling company like FD Remodeling. Whatever your remodeling dreams may be, we will create a unique plan that suits your budget and preferences. So hurry and give us a call at (404) 857-5582 today!