It's that time of the year again when we have to decorate our homes for the happiest season of all. But that doesn't mean you should limit yourself to the use of the classic Christmas lights. So get to know these front porch holiday decor ideas to make your home more festive for the most wonderful time of the year.
Step up your home decorating game for this holiday season using the following tips. Rest assured that these ideas are easy to recreate that they won't add up to your holiday stress.
Now let's begin!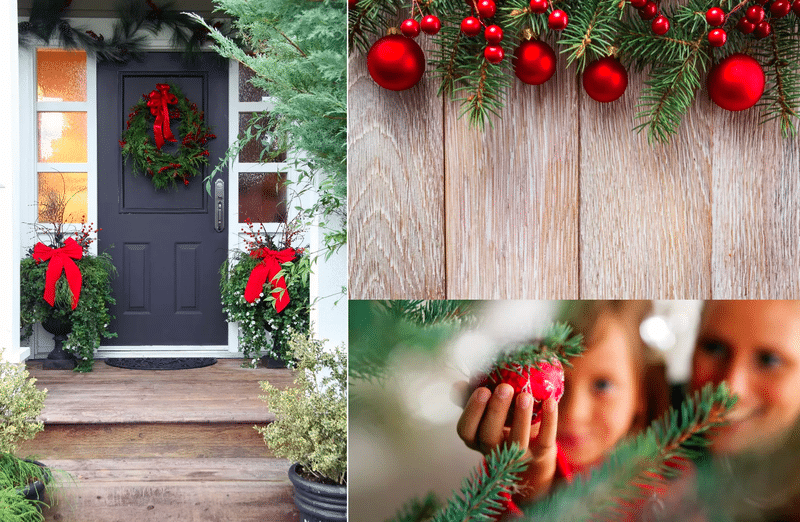 Front Porch Holiday Decor Ideas
When it comes to decorating, sometimes less is more. Even ordinary seasonal accents will already make a stylish statement. Of course, you will not want your holiday guests to have a hard time entering your home.
Simple but Cheerful
Just because you are decorating for Christmas doesn't mean the entrance to your home should be extravagant. If you don't have that extra time and budget to do so, even a simple banner that says "Merry Christmas" is enough to welcome your guests. You can then spend just an afternoon decorating a little Christmas tree for your front porch. And to add more cheer to your decorations, you can put fake gifts under your Christmas tree.
Make It Nostalgic
Do you have a sled at home that has been in the basement for so long? Or a pair of ice skates that you no longer use? Why not incorporate them in your front porch holiday decor? Add a few little Christmas trees, and you will instantly transform your entrance hall into an old-fashioned porch with holiday vibes.
Shining Shimmering (A Must-Try Front Porch Holiday Decor Idea)
Experience some sparkly Christmas with silver and gold ornaments. Turn your porch into a shining, shimmering lobby with this holiday decor idea. White ribbons and white poinsettias will also add glamour to this decor. But that doesn't mean you have to go beyond your budget for this. Just add some white Christmas lights, and voila!
Add Some Colors
Red and green are not the only colors for Christmas. In fact, you can make your porch stand out using bright colors. Use lanterns, garlands, and other Christmas decors of different hues. Never be afraid to experiment with a pop of color here and there.
Fresh and Green
Welcome your visitors with a fresh scent of newly cut Christmas trees. Your guests will already experience Christmas even before they smell the gingerbread, cinnamon, and hot chocolate in your kitchen. Include ornaments in your front porch holiday decor that will contrast the color green. You can use silver and gold, or even black and white decors.
Try the Lucky Color
They say that green is the lucky color of the upcoming year. Try your luck with this color instead of the traditional one. Teal, for example, is a great choice as blue and green combined into one brings calmness into the surroundings. You can then mix it up with other colors to make it more festive such as white and silver.
If you are located in Atlanta, Georgia, and you need help in transforming your porch for the holiday season, you can always count on FD Remodeling Contractors Atlanta.
Other Front Porch Holiday Decor Ideas to Choose From
Decorating is always a fun thing to do. So don't limit your imagination as to how you can decorate your front porch this Christmas.
Use Wreaths with a Twist
Add some twists to your traditional wreaths. Hang boughs made of evergreen instead. Decorate it with bells, fake cranberries, and a scarf to make it adorable. Putting a rocking chair on your porch with a matching throw pillow will make it cozier, which is perfect for the winter. And nobody can go wrong with pine cones.
Warm and Cozy
The entrance to your home should be inviting enough, especially this holiday season. And regardless of what season we are in, nobody wants to scare their guests away right at their lobby. So make your porch warm and cozy with these front porch holiday decor ideas.
You can add a pop of different colors to contrast the dominant shade that you are using. If you are using mostly green, you can use pillows and lanterns in red. And to stick with that cozy vibe, you can throw a blanket on your bench.
Go for Ribbons
Wired ribbons are the easiest to use when it comes to arts and crafts. They make creating different shapes possible as you can bend them according to your liking. Get a couple of reams from a local craft store and get your creative side to work.
Make garlands out of your ribbons to decorate your door and windows. You can also wrap it around your pots or put it on your railings. And you can choose a single color or go for different ones.
White Christmas
The idea of white Christmas always seems magical. The sight of snow, accompanied by the cold breeze, marks the beginning of the most festive time of the year. But snowfall doesn't have to stop you from decorating your front porch. All you have to do is choose the materials that will stand the test of the weather.
Put your Christmas trees in stainless buckets. Also, add logs to pump your decorations up. Even as simple as this, you will instantly have a perfect winter wonderland just outside your home.
Remodel Your Home with the Best Front Porch Holiday Decor
Decorating your porch this Christmas should make you feel more inspired and excited to celebrate the season. The entrance to your home must be inviting enough not only for the guests but also for the new year to come. But if you don't have a front porch or welcoming entrance to decorate, then we got you covered.
The remodeling services of FD Remodeling will not only turn your ideas into a reality. We will also help you create an inviting front porch or entrance for you to decorate all seasons of the year. It is our mission to make the remodeling experiences of our clients unforgettable. So give us a call and we will help your new porch remodeling project for your home.