8 Wet Bar Ideas: Adding a Wet Bar in Your Home
Do you want to spruce up your basement ambiance to have more fun with guests? Adding a wet bar design could bring so many changes. Besides having a designated place for sipping that old wine with friends, it can add value to your home. While these bars may seem outdated, a realtor will give you aesthetic wet bar ideas that reflect modern innovation. After all, you own the bar and can tweak its features as much as possible, bases on your taste, needs, and preferences.
Generally, a wet bar is a galley kitchen that connects to the main kitchen. It offers a perfect place for serving friends and families during parties. How do you remodel a mind-blowing wet bar? What are some of the trends and ideas to watch out for in 2021 and beyond? Here is everything you need to know about wet bar ideas.
Wine Storage
Are you drooling over a fancy wine library that would hold as many bottles as possible? Wine connoisseurs should worry about storage space that doesn't affect the quality of the wine. Moreover, you also want a space that exudes opulence since wine is often associated with luxury. Depending on your needs, you can turn the whole basement into a wine cellar. You can also build a special wine room with a large glass door for display.
Other factors to keep in mind when creating a wine storage space include:
• A cool and dry storage space with a temperature range of between 45 and 65 degrees Fahrenheit
• Refrigerator storage for a few months
• Steady temperature environment to prevent air from penetrating through the cork
Under-Counter Appliances
There are several appliances that you can add under the counter to enhance a modern bar experience. You don't have to walk to the kitchen to warm the food or make ice. When adding under-counter appliances, fix them inside cabinets to create more space and prolong their lifespan. Some under-counter appliances that complement a modern wet bar include:
• Wine refrigerators and beverage coolers
• Microwave
• Icemaker
• Beer kegerators
Floating shelves
Ancient wet bars mainly depended on wall cabinetry for storage space. The trend is changing due to the need for utilizing available space. A modern wet bar will have more drink variety and appliances compared to old times. You should consider floating shelves as they make it easy to customize the surroundings as much as possible. For instance, you can illuminate the shelf undersides with LED lighting strips to create a partying mood.
You should also install floating shelves because they:
Minimize clutter and promote the organization of stuff
Are a great way of displaying drinks and glasses
Give a low profile look for a modern wet bar.
Give space for other wall decorations.
Bold Colors and Patterns
Your wet bar should exude a different ambiance that stands out from the rest of the house. Leveraging bold colors and patterns on the walls and floors can deliver this. You want a bar space that looks fun and artistic. While keeping the counter and cabinetry colors neutral, you can pick mosaic tiles for the floor. You can paint the walls with bright colors that blend with your lighting. An art collection will also look great on brightly colored walls.
Even so, color and pattern choice are purely aesthetic and will range from one person to another. If you find it hard to settle for an option, you can hire an interior designer to help you with ideas.
Entertainment Space
You decided to design a wet bar because you want to bring the entertainment experience closer to home. Besides the drink-filled cabinets and modern appliances, you might also want to create an entertainment space. Depending on the number of guests you intend to accommodate, you can add extra couches for the lounge area. Bring chase game boards and cards to entertain business associates. Mind games trigger hearty conversations when having fun.
Some people also love to dance when in a good mood. Invest in a high-quality home theater, preferably with wireless sound connectivity. A clutter of cables can cause inconvenience and minor accidents, especially when the guests are tipsy.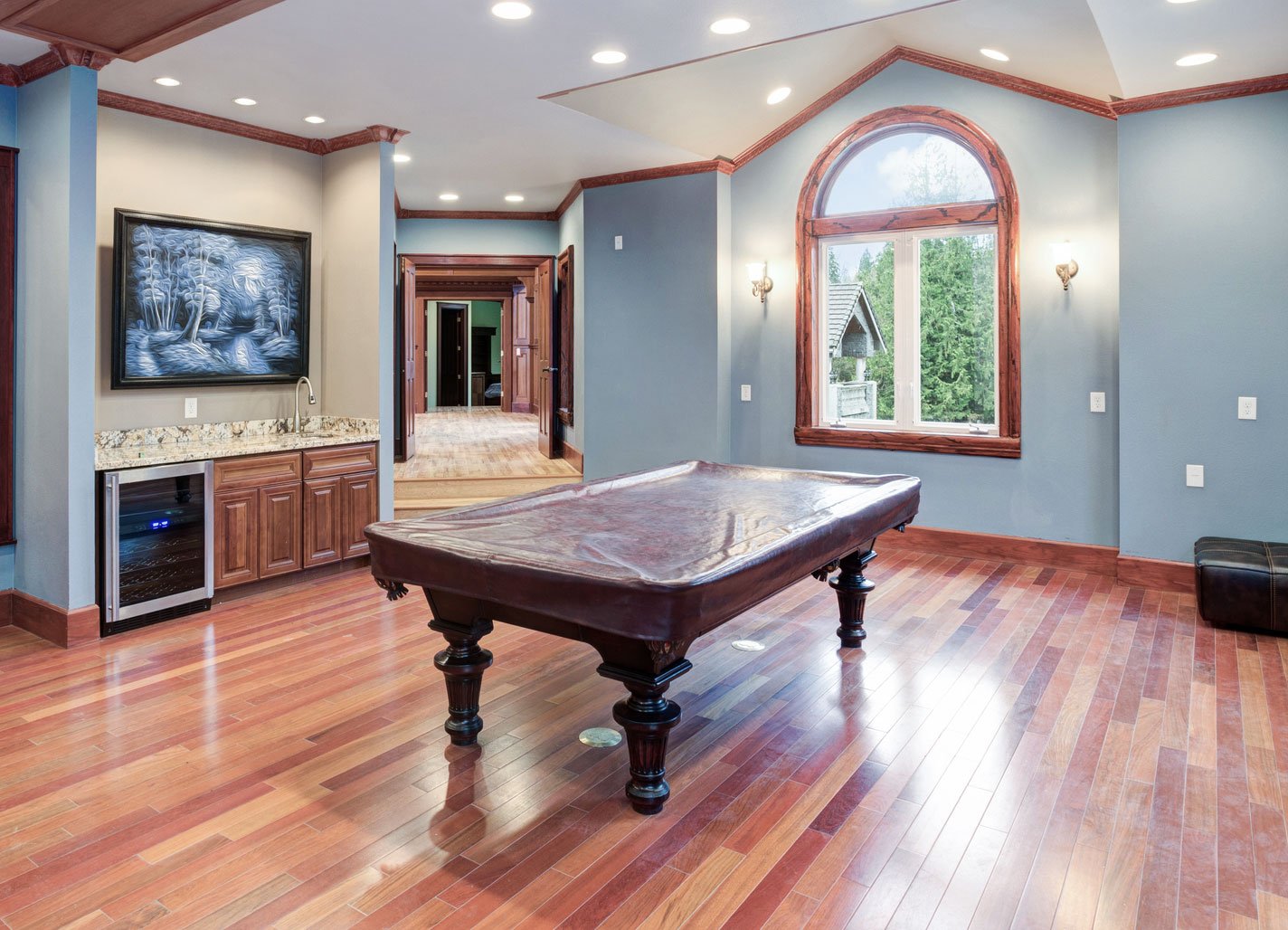 Add a TV Screen
At times you just want to chill with your business associates after a late dinner. Having a TV screen at the wet bar complements a modern lounge space where you can catch up with business news. Moreover, older folks love to unwind while catching up with their favorite sports. A big screen will rekindle college football memories and give you something to talk and argue about.
Install a dishwasher
In 2021, you should have a wet bar in the basement with features geared towards enhancing convenience. Instead of going for multiple storage cabinets, kindly consider installing a second dishwasher. Modern parties go hard, and you'll likely end up with messed-up glasses and dishes. The last thing that you want is having to carry all these dishes upstairs. Moreover, you don't want to wash the dishes with your hands during winter. It will help if all the cleaning happens within the bar.
Add a Classy Countertop
Lastly, you might also want t to add a unique countertop not found in regular kitchen spaces. After all, you want everyone who comes to the wet bar in the basement to notice your taste and preference. A large, curved countertop with hardwood finishing will do the magic. A curved countertop allows revelers to sit in a circular pattern for hearty discussions and experiences. Also, hardwood counter stops can withstand drink spillages. They'll likely last for long compared to glass or softwood construction materials.
Wrapping It Up
Designing a wet bar space is easier when you have wet bar ideas figured out from the word go. Know the items you want ad how you're going to leverage the space. Moreover, it is the finishing and ambiance that will define the entertainment experience. Very few guests want to have a 1970s bar experience in 2021. Also, it will help if you make the space family-friendly. If you're taking some time out with family, endless barrels of beer doesn't sound right. Add a gaming console next to the screen for the kids.  Contact FD Remodeling for a free estimate on adding a wet bar to your home.