If you're a serious crafter, you need an equally serious craft room. It's no exaggeration: if you (or someone you know) is a crafter, you know that supplies multiply quickly. A stash of embroidery thread and a pair of sharp sewing scissors become an assortment of every DMC color, 60 skeins of high-quality yarns, and an entire screen-printing setup.
Be honest with yourself. A hobby of this nature requires dedicated space. Furthermore, craft rooms should feel inspiring, so take the opportunity to use your creativity to decorate your room! Nevertheless, a blank canvas can be intimidating for any creative person. Your next redecorating project will be inspired by these space-saving craft room ideas.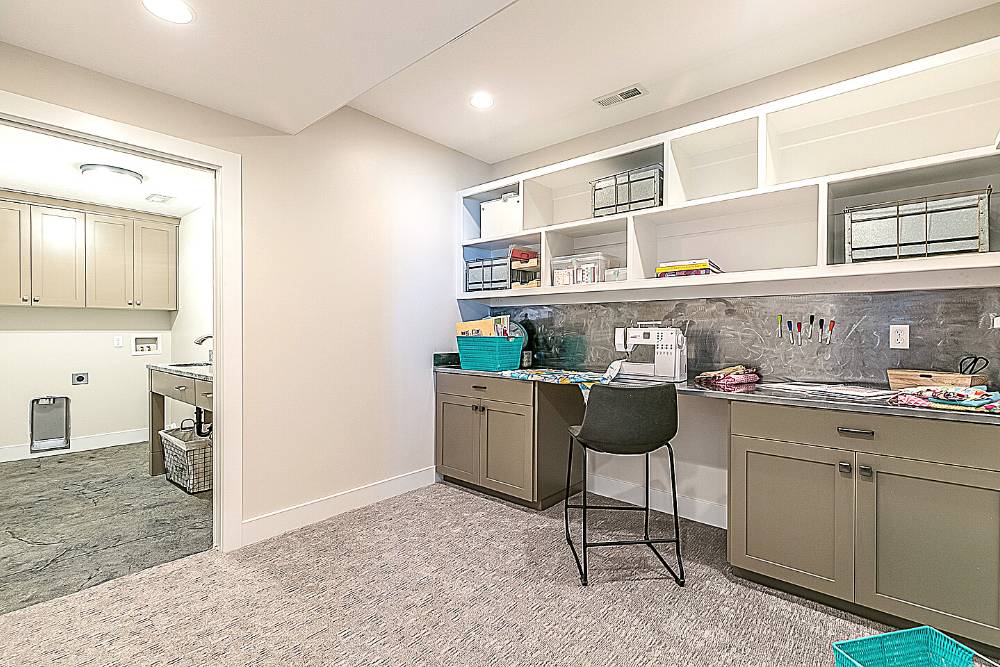 1. Establish An Organizational System
A good organizational system is essential for crafters. Without an organized system for finding threads, scissors, or labels, you may end up digging through dark drawers for days on end. Build a custom storage system that includes pull-out drawers that can store every tool you can imagine. It's easier to switch between different projects with the addition of labels on the front.
2. Invest In Adjustable Shelving
Now you may enjoy scrapbooking and cross-stitching, but who knows what you'll love a year from now? You might take up crocheting. Perhaps you'll begin taking drawing classes.
Adjustable shelves can adapt to your ever-changing interests. It's not hard to find adjustable shelving units in home improvement stores and, of course, at IKEA that give your craft room the flexibility it needs.
3. Make Your Pegboard Shine
If you have a craft room, a pegboard is a must-have storage solution, but don't limit yourself to bland white. Craft rooms should be bold with color, so make the color of your accent shade a theme throughout the space. For color ideas check out our article on different types of paint finishes. A stylish pegboard will complement any color theme craft room-and it can be used to store paint, tools, and wrapping tape.
4. Add Your Favorite Things
Consider the reasons you enjoy crafting when designing your dream craft room. Do you enjoy anime characters? Are you passionate about drawing characters from your favorite genre? Have you been captivated by the talent of your favorite fixer-upper bloggers? Embrace whatever strikes your fancy in your crafting space. So that you are never far from the things you love, make your craft room a treasure trove.
5. Go Over the Top
Don't forget to give yourself plenty of inspiration in a room dedicated to creation. Even if that means your decor may be a bit eclectic, that's okay. Mixing disparate patterns and bright artwork creates a haven of color and cheer. A work table with enough room to develop your creative vision should be the finishing touch.
6. Make The Most Of Unused Space
Are you passionate about crafting but not sure where to keep your supplies? Are you dreaming of your own craft room, but living in a small house or apartment? Transform unused spaces. You can transform a stairway landing into a colorful and well-organized craft room simply by stretching a big desk across the space and using playful (and inspiring) wallpaper.
7. Bring The Outdoors Inside
Unless you live in a year-round spring-like climate, crafting outdoors probably isn't an option. Even so, you can let the outdoors inside. Houseplants add life to a room, and natural products like rattan and wicker provide texture. To create an inspiring and natural-feeling craft room, incorporate gorgeous greens and natural motifs.
8. Stay Motivated
Yes, inspirational signs saying "Creativity takes courage" or "Be the best version of yourself" may seem cliche, but they're cliche because they're true. Motivation sometimes eludes us, and we tend to hard on ourselves when we sit down in front of a blank piece of paper (or swathe of embroidery cloth) unable to decide what to do next. Keep an inspirational saying on your wall so you can look at it when everything seems to be going wrong.
9. Give Yourself Room to Grow
Are there a lot of supplies that you need to keep? Make sure to plan storage for your craft room in advance so you can keep all the tools, scrap fabric, and other supplies you'll need in the coming weeks and months. What's important isn't what you have now, but what you might accomplish next.
Vintage stores may be your salvation if you have a lot of small supplies in your craft room. For example embroidery threads can be safely stored in painted card catalogs. Organizing an out-of-control collection is so much easier when you have a space to do it in, and this common thrift store find promises to help sort your craft room mess in a jiffy.
10. Invest In A Quality Chair
Because crafters spend a lot of time on their butts, their behinds may eventually ache. Invest in a high-quality office chair or spice up the one you already have. If you drape a fur over your high-backed chair, it will add a soft element to the space-and make working far more comfortable.
Conclusion
Contact FD Remodeling for help converting your bedroom or small living space into a craft room of your dreams.