The summer is the ideal time to take care of all the home improvement projects you've put off all winter. Make summer break fun for your older children by getting them to paint your old fence or clean up your flower beds? Beautifying your home's exterior will increase its value.
Find out which summer home improvement projects you can handle yourself, and which ones should be left to the pros. Afterward, you can host a cookout for the whole neighborhood at which everyone can admire your hard work and home.
1. Vinyl Siding Replacement
In the United States, vinyl siding is the most popular home covering material. There are a wide variety of options available on the market today if you haven't looked at vinyl for a while. There are many styles and colors of vinyl siding today, and they can even replicate expensive cedar shake siding. Additionally, it is affordable and durable, making it a perfect choice for any home.
A siding replacement is a great job for the summer, but it's something professionals should handle. Measurements, cuts and installation of siding must be perfect to prevent any moisture from accumulating underneath. Its main function is to keep water out of your home. It is also important to avoid rippling and waves, which can occur when vinyl siding is poorly installed
2. Home Pressure Washing
What better way to rejuvenate your siding than to give it a thorough cleaning? Experts say to use caution when using a power washer, which you can buy or rent. If you spray upward, you can direct the water toward the gaps between the siding, forcing it underneath. You may need to hire a professional if your home is particularly large or dirty. In addition to their larger teams and powerful equipment, the pros are able to complete the job in less time. The only thing you'll need is your wallet, but you won't have to exert yourself.
3. Resurface your Deck
If you are handy, you might be able to strip and refinish your deck yourself, which will enhance its beauty. Moreover, since it's an outdoor job, it's an excellent summer home improvement project.
It is important to be careful when power washing a deck, since wearing down the wood can result in etching. Start with a low pressure and raise it incrementally, but do not push it above 1500 psi. When staining, choose the right stain based on the type of wood you have.
4. Build an outdoor kitchen
Consider moving your kitchen outside, especially if you love the outdoors. A premade grill island or a more basic structure, such as a bar made from reclaimed wood or paving stones, may be more appropriate if your budget is modest. Utilize natural materials like stone and brick. After all, it's an outdoor kitchen. Be sure to check out our article on outdoor patio designs for your backyard.
5. Window Replacement
Replacing old, inefficient windows is best done in the summer. Despite being months away, cold weather is upon us fast, and the last thing anyone wants to have is a house that is chilly, drafty, and expensive to heat. Window replacement can also enhance the curb appeal of your home. New windows may not seem like a fun or exciting home improvement, but they can pay off big in the long run.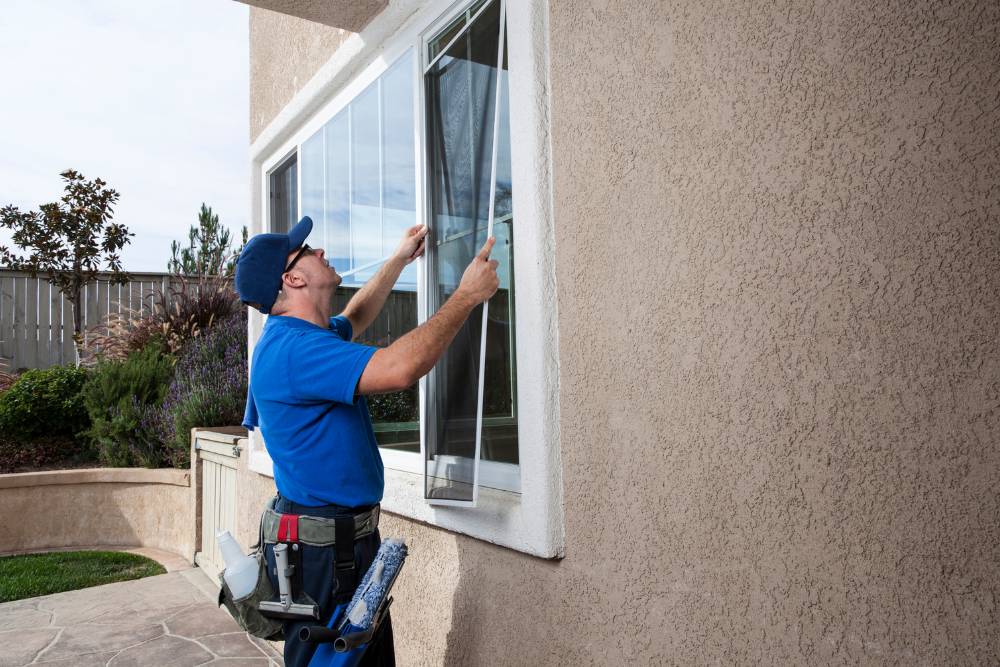 6. Landscaping
Landscaping is probably the most DIY-friendly summer home improvement project. What's more, you can do it for pennies on the dollar. It's easy to find ideas on Pinterest, and you can even look at homes in your neighborhood for inspiration. Even basic beds with mulch and a few hardy green shrubs can look clean and polished in front of your home. If you want some pops of color, you can add a few touches of annuals here and there.
7. Get Organized
Do you have too many old family photos, bikes, and toys in your garage? Is the pile of stuff in your garage barely reduced by the last two yard sales you held? It may be time to install a storage shed or outbuilding if you have to park your car in your driveway all the time because it literally cannot fit inside your garage. There is no better time than summer to add a little extra space to your home.
In some cases, homeowners convert their existing storage sheds and outbuildings into homes offices and guesthouses. There are plenty of free storage shed building plans online and even DIY kits available if you know how to use a hammer. A versatile assortment of sheds, of virtually every shape and size, can be found at home improvement stores.
8. Gutter Replacement
In case your gutters are sagging or leaky, you might need to replace them. A gutter's primary task is to channel water away from a roof and the foundation of a home. It may be time to replace your gutter system if it is old.
Having modern gutters installed can also produce a noticeable difference in the appearance of a house. Putting new gutters in place is like framing a new picture. Adding gutters to a home can add a lot of curb appeal at a very affordable price.
9. Invest In A New Garage Door
You can greatly improve the curb appeal of your home with a new garage door. Parking mishaps and stray basketballs cause dents and dings. Your garage door will look tired and worn before you know it – and despite a fresh coat of paint, it won't reclaim its previous lustre. Therefore, why not replace it? Security features are more prominent on today's models.
10. Roof Replacement
If your roof needs to be replaced, the summer is the best time. If you delay getting a new roof, you'll be more susceptible to water damage, which could lead to mold and leaks. We must always remember that water damage and rot only get worse over time. Consider an in-home consultation with a professional who can help you determine what colors and styles match your home's architecture and style.
In Conclusion
Do you want to give your home a fresh new look? Get in touch with FD Remodeling today! Providing the highest quality work on windows, siding, gutters, and doors on the market, we help homeowners add beauty and value to their property