The work-from-home lifestyle has seen a surge in popularity over the past few years, with many professionals choosing to move permanently to a remote work setup and home office space. While there are plenty of benefits to working from home, many people struggle to successfully make the shift because they find it difficult to separate their work life from their home one. It can be easy to be complacent with your work because of how distracting life from home can be. One way to remedy this is by setting up a home office space to give yourself a dedicated workspace at home.
To help you with this, here are some great home office ideas to use in your own home and inspire productivity with your work.
What is a Home Office Space?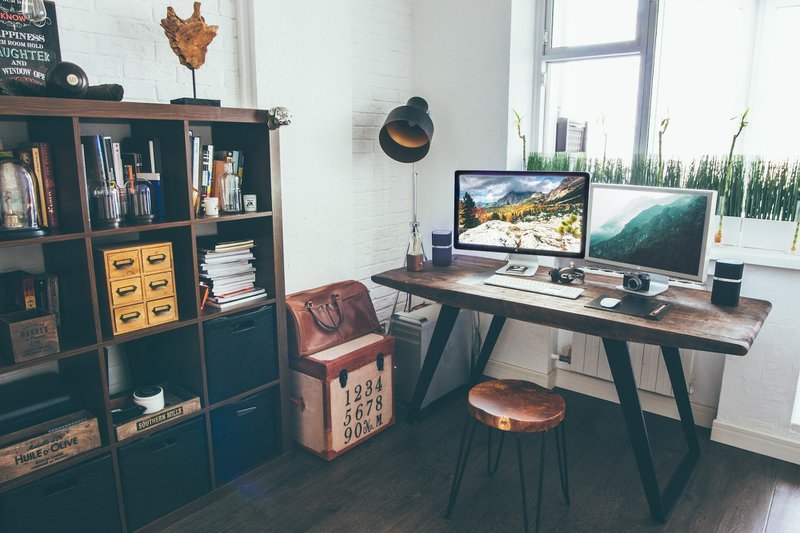 A home office space is a room or an area within your house that you can use as a workspace. This is opposed to working from your bedroom or kitchen table, which can make you feel like you're always on the clock and never really disconnect from work.
By having a dedicated space for your office, you can establish a better work-life balance and avoid burnout. It can be as simple as a corner in your living room or an unused garage that you can convert into an office space. The sky is the limit when it comes to designing a home office for your work.
Determine Your Budget Beforehand
When setting up your home office space, one of the first things you need to consider is your budget. This will help you determine what furniture and decor you can buy for your space. If you have a limited budget, try looking for second-hand furniture or choosing more affordable pieces. You can also DIY some of the decor to save money.
Choose a Room That Gets Good Natural Light
Another important factor to consider when picking a room for your home office is the natural light. It's been proven that exposure to natural light helps improve productivity and focus, so choosing a room with many windows is ideal. If no rooms in your house get good natural light, you can also consider setting up your office in the garage or converting a sunroom into your workspace.
Choose a Clean, Clutter-Free Design
Once you've selected the room for your office, it's time to start thinking about the design. The overall aesthetic of your home office space should be clean and clutter-free. This means choosing minimal furniture and decor so that your space doesn't feel cluttered or chaotic. You want to create an environment that is conducive to focus and productivity.
Use Materials That Don't Need a Lot Of Maintenance
When choosing materials for your home office, opt for those that don't require a lot of maintenance. You don't want to be distracted by scuffing on the floor, or plants that require a lot of tending on the daily.
For example, instead of using real plants, go for artificial ones that don't need to be watered. Use throw blankets and pillows that can be easily cleaned instead of delicate fabrics. And choose furniture that doesn't require a lot of upkeep, like glass tables or metal chairs.
Include Personal Touches
Even though your home office should be mostly about work, it's still important to personalize the space with a few personal touches. This can help you feel more comfortable in your workspace and make it feel like your own. Add some photos, artwork, or other decor items that reflect your personal taste and style.
Make Sure You Have the Right Equipment
Of course, no home office is complete without the right equipment. Make sure you have a good-quality computer, printer, and scanner. Invest in a comfortable office chair and make sure your desk is the right height for you. And stock your office with supplies like paper, pens, and sticky notes.
Make Sure That You Are Comfortable
Last but not least, make sure that you are comfortable in your home office space. This means setting the temperature to a comfortable level, having enough lighting, and investing in noise-cancelling headphones if needed. You should also make sure that your office chair is supportive and that your desk is at the right height for you.
Back problems are commonplace among remote workers, and this is easily remedied with the right office chair and back support. You can avoid distractions and stay focused on work by making sure you're comfortable.
Create a Space That Works For You
Creating a productive home office space doesn't have to be difficult. Following these simple tips, you can design a workspace that inspires productivity and focus. The best way to guarantee an office space that works for your productivity is by consulting with a professional like FD Remodeling to take care of it for you.
Our range of home remodeling services helps guarantee that you get a home office space that not only looks great, but is also comfortable and helps you be more productive. Reach out to us today, and let's get that home office plan started for you right away.