Ideas for Designing Your Outdoor Living Space
Having the perfect place for your family to relax and unwind is imperative in today's busy times. By having an outdoor living space that allows you to feel the breeze and experience the sunset,you can achieve this.
This article provides outdoor living space ideas as well as practical suggestions on how to create your own outdoor living space on a budget.
Planning Your Outdoor Living Space
It is very important to first identify the purpose of your outdoor living space before beginning the planning and construction process.
● How many guests do I want to accommodate?
● What events do I want to take place?
● How should I design my space to accommodate children?
There are many questions you should ask yourself before moving on to the next level. Answering these questions will make your construction flow much more smoothly.
One of the most important factors to consider after defining your purpose is the budget. Are you on a tight budget? If not, lucky you!
You can achieve the best possible outcome for your outdoor living space or home exterior renovations while maintaining your budget by looking for a trusted home renovation or remodeling company that can help you plan and sort the phases of your preparation.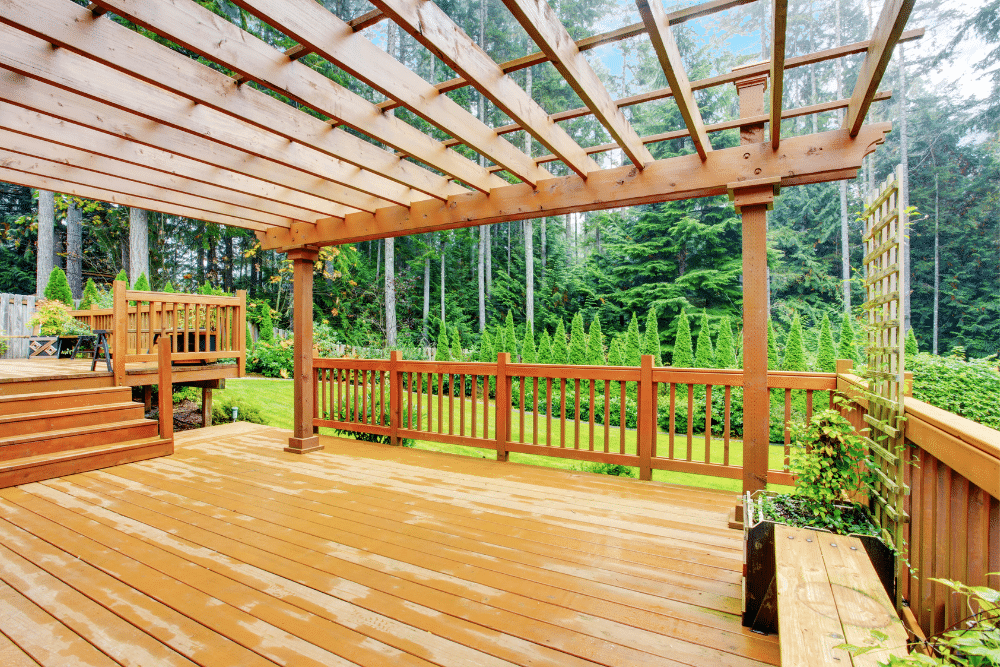 Hiring A Construction Expert
The following benefits are gained by hiring a construction expert:
● Construction budget estimate provided for your construction needs.
● Their expertise will ensure success for the project.
● Reduce the amount of time it takes to complete the construction.
Outdoor Living Space Ideas
Outdoor Space Ideas. In some cases, homeowners want to create a specific theme for their outdoor living space. There are many outdoor living space ideas available online.
If you are looking for inspiration, Pinterest, Google, Facebook, and Instagram can serve as a resource; there are also before/after videos available on YouTube.
However, if you don't have the time to do extensive research, an interior designer may be your best friend. Interior designers are responsible for:
● Generating multiple unique outdoor living space ideas for you.
● Planning and overseeing the possible furniture and decor for the end result.
● Ensure that the designs presented are ergonomic.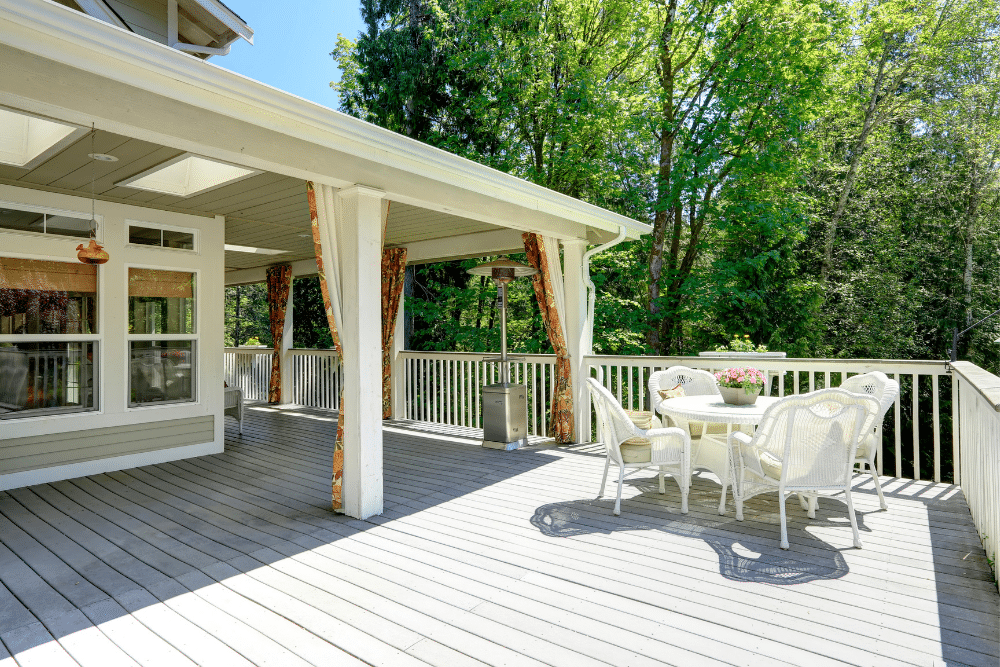 Choosing Your Living Space Location
A number of factors must be considered when choosing a location for your outdoor living space.
Safety. Having your living space strategically placed is of paramount importance especially in case of flooding. In case of fire, it must also be placed near running water sources, and it must have a fire extinguisher nearby.
Lighting. There are several times of day when sunlight rays reach different places and ultraviolet light during the daytime has both positive and negative effects. Your outdoor living space must, in the afternoon, be at least 80% protected against harmful UV rays to avoid problems caused by sun exposure. However, it must get enough morning sunlight
to produce adequate amounts of vitamins.
Air Flow. Natural air from your garden or nearby lake can improve your mood and aura. Pick an area where air can flow freely, so you won't need extra fans to ensure comfort.
Child Friendly. There is no avoiding the fact that children are going to be present at events. In general, they can get out of hand during events, so getting a location with barriers to stop them from wandering off and getting lost can ensure their safety during
peak times.
Accessibility. Access to the outdoor space should be accessible to guests. This can also be used as an emergency exit during emergencies.
Additional Outdoor Space Tips
Below are a few tips and details that may seem insignificant, but can make a big difference if you prepare for it.
Plants for Outdoor Spaces
Many plants are available on the market. However, there are several selections that might be best used for your outdoor living space. Georgia native plants are well suited to the climate and should, therefore, be able to thrive when planted. You can enhance your outdoor living area with these great ideas:
Shasta Daisy – A classic perennial, it might remind you of wild daisies you've seen along the roadside. Like those daisies, it grows in clusters about 3 feet tall. Blooms last 3 to 4 weeks.
Purple coneflower – Another perennial, purple coneflowers are found across much of the eastern US. Their pistils make them a popular flower among bees and butterflies. They are easy to grow and can sometimes reach 5 feet in height!
Sunflowers & black-eyed Susans – Black-eyed Susans are one of the most common flowers in America…and they're related to sunflowers. You can see the similarity. Many of them are grown as annuals, although some are perennials. These flowers grow to a height of about 2 or 3 feet.
These are just a few of the many possible flowers and herbs that can be used around your outdoor living area to make it more breathable and attractive.
Outdoor Patio Space
Adding an outdoor patio or upgrading an existing patio turns an empty backyard into a beautiful outdoor area. This is a great place to relax, entertain and cook. Your living space can be extended to the backyard.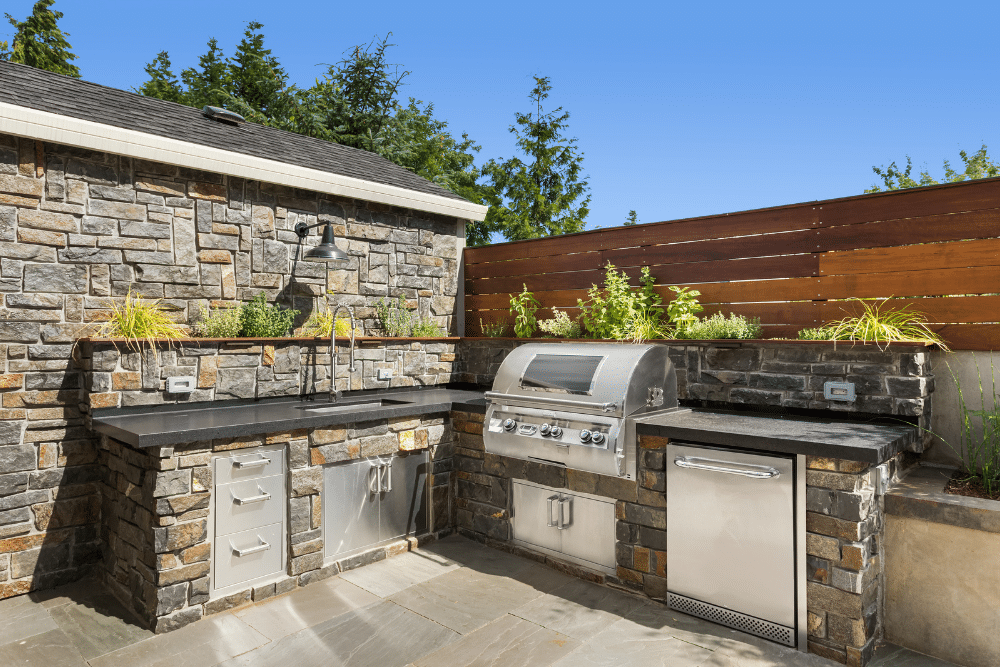 Outdoor Furniture For Your Living Space
For outdoor living spaces, you'll need weather-resistant, highly durable furniture. If you don't want to hire an interior designer, you can choose a set that is available without a huge price tag.
Material
Teak furniture. These are made from water-resistant woods, which generates mainly from Asia.
Polypropylene Furniture. These are known for their durability and their ability to resist water.
Resin Wicker Furniture. This is an excellent substitution to ratan but more durable since it is made of braided synthetic material.
Polystone Furniture. This kind of furniture is known for its ability to resist any type of weather Mother Nature has to offer.
Color
Colors have a huge impact on outdoor living spaces since they will reflect your aesthetic and comfort. Use neutral colors, predominantly cream, gray, or white, which are highly pleasing to the eye. Use accessories such as cushions, pillows and drapes to add pops of color.
Firepits
A fire pit is a great choice for families who tend to spend a lot of time together at night. A fire pit will provide warmth and fun while you cuddle up with pillows, blankets, and marshmallows.
Outdoor Kitchens
If you love to cook outside, an outdoor kitchen is a great investment. The joys of eating outside are multiplied by the extra convenience of having convenient appliances near you and a well designed outdoor dining area. Take a tip from these well-designed outdoor kitchens.
Bar
Anyone who likes Friday nights at home will appreciate having a bar, because you don't have to go out. For young adults and grown-ups, having a bar is an incredible plus.
You'll have many choices in terms of styles and design approaches, but a little research will likely go along way, and before you know it, you'll be sipping cocktails in your new outdoor bar.
Conclusion:
It is an accomplishment to be able to create your dream outdoor living space, but the process can be simple or complex depending on the actions you choose to do. Ensure that your outdoor living space is aesthetically pleasing, and functional by contacting FD Remodeling for a free quote.