How To Choose Exterior Paint Colors For Your House
These expert tips can show you how to choose exterior paint colors for your house and make a good first impression.
You should not be afraid to take a bit of time with your color choice if you are painting the exterior of your home.
It's one thing to choose a color scheme for your interior, but the exterior is really about durability. It's all about protecting the most valuable possession you hold. Don't rush the process.
Keeping that in mind, here are some tips for choosing paint:
Spend a little extra on paint. Premium paints like Behr Marquee Exterior Paint and Primer in One are a terrific upgrade. This paint covers well, resists stains and stays up in the weather.
Choose a paint color that complements your permanent materials. If you have a brick or stone foundation, patio, or accents, use their underlying colors when choosing a paint shade. If you're stuck, try pairing opposite color temperatures. Choose a taupe with cool gray undertones instead of a peachy tan if you have a warm red brick foundation and want brown for your exterior paint.
You can literally bring a sample of permanent materials to the paint store for computer color matching. Behr also offers an online tool called color matches that lets you choose an initial color, recommend coordinating colors, and experiment with color combinations on images of exteriors to visualize the finished result.
Keep your exterior door design and trim in mind. If you want something other than white, try a swatch that is a few shades lighter.
Buy samples of the paint colors you're considering and paint some brush-outs outside. Make sure to paint some on both the north and south sides of the house, where the lighting can differ dramatically, as well as any trim you plan to coordinate with. Get the best idea of your finished product by looking at the samples at different times during the day.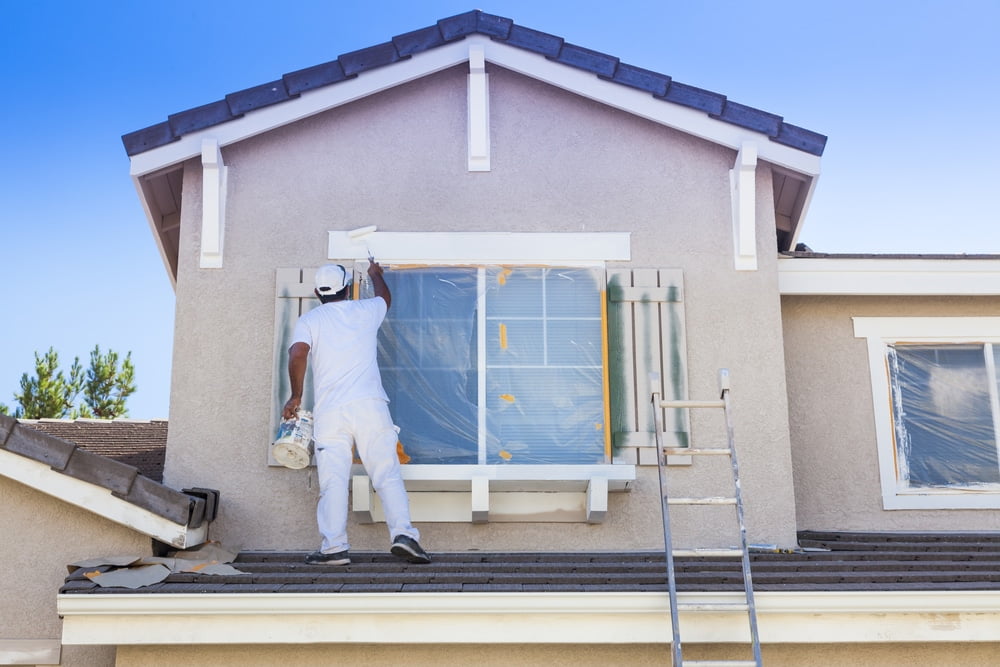 Choose An Exterior Paint Color
Leave your exterior painting to the professionals. Use these tips, in conjunction with professional help, to choose a color scheme which works for you and your home's surroundings.
For starters, there are two main types of exterior paint to choose from: oil-based and latex.
Oil-Based Paint
Oil-based paint has excellent durability and water resistance. It offers a hard finish and is often used by professional painters. Use an oil-based if the surface you are painting has already been painted with oil-based paint.
Oil-based paint should be stirred frequently, as these types tend to separate quickly with the oil content.
Please use brushes or rollers specifically designed for use with oil-based paint when using oil-based paint.
Latex exterior paints have improved so much, that they can now be as durable as oil-based paints. They are also considerably easier to work with. Make sure, though, you select an exterior latex for use outside the home, not interior latex.
Here's a tip for determining whether your house has latex or oil-based paint. To determine the paint type, simply peel off a large paint-chip and see if the chip bends slightly before cracking. Oil-based paint chips tend to snap easily.
Latex Paint
Latex is easy to apply, dries quickly, is durable and is resistant to direct sunlight. Cleaning is straightforward with a tiny bit of water.
Latex acrylic paint covers all types of building materials, including brick and metal properly primed.
Do not put a new coat of latex over an old coat of oil-based paint. It will most likely peel.
Conclusion
It is important that you assess your project skills and experience when estimating costs on a DIY basis. For a large project, it is important to find qualified, reliable help. For a reasonable cost, you get better craftsmanship and expertise from FD Remodeling. Contact them today for your free quote