Why Kitchen Design Trends 2020 Matter
Good kitchen remodeling ideas are potentially worth their weight in gold. These days, people tend to move every few years. It is rare for someone to buy a house and stay put for life.
An updated kitchen can be a major selling point for a home. Even if you think you are updating the space just for you, something unexpected can happen and you can find yourself moving on short notice. So kitchen remodels should pay more attention to current trends than most interior updates.
Daring Backsplashes
Slab backslashes are hot for high-end kitchens. Another trend is backsplashes that match the countertops. It's a bold statement often done with very expensive materials.
But you don't have to be rich to get in on the backsplash action. Updating the backsplash can be one of the easiest and cheapest ways to try something unusual without your blood pressure shooting through the roof.
A colorful tile backsplash or even just a new coat of paint can be affordable ways to go for the bold. The backsplash is highly visible, so it makes a very large visual impact, yet doesn't involve major structural changes or similarly pricey moves.
This is a low-risk area to try something that might scare you just a hair. If you really hate it, it is relatively easily reversed. If the idea of making the backsplash and countertops match appeals to you, you can find budget-friendly ways to implement this approach as well.
Open Shelving
In a high-end kitchen, open storage can be a way to show off designer cookware and high-end dishes. In a more modest kitchen, you get the added benefit of removing the need to open cabinet doors in a cramped space to reach essential items while actively working on putting together a meal.
No one needs to know that your real motive for adopting this trend is maximizing space. Look at some good photos of what's current to get some inspiration and adapt it for your space to get the best of both worlds.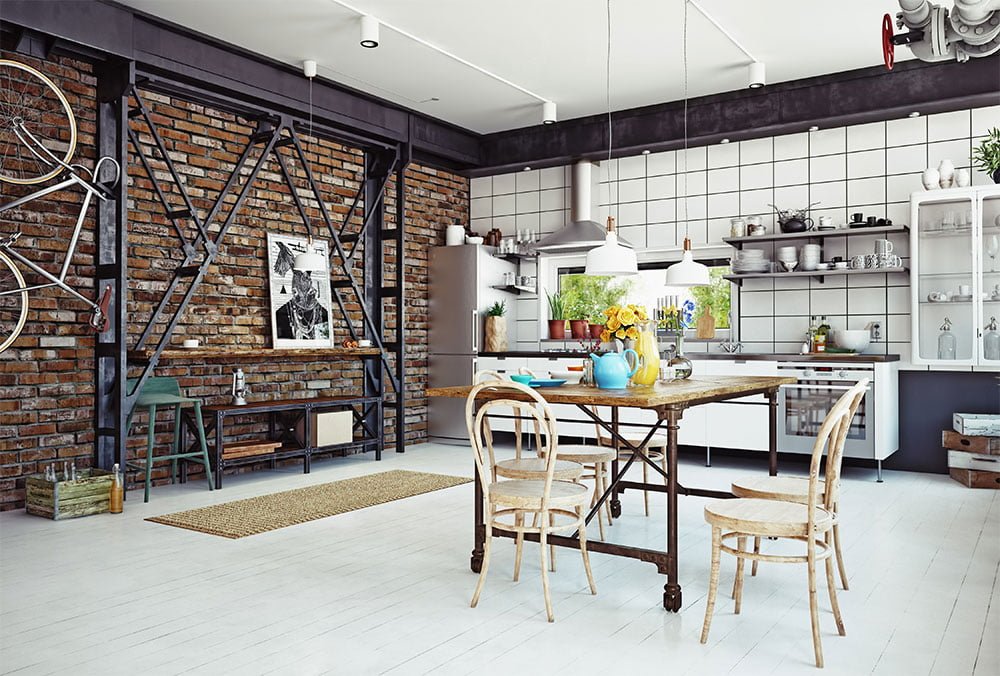 Less Is More
Whether it is a lack of crown molding or an architecturally elegant island that seems to defy gravity, clean lines are big this year. The updated Shaker style is part of this trend towards clean lines in the heart of the home.
This is a boon to anyone with a busy life because clean lines are literally cleaner. They are easier to wipe down and maintain.
Unexpected Colors
White kitchens are always popular, but blue is very big this year. Custom navy millwork is surprisingly popular in high-end kitchens right now.
If you don't want to go all out and do all blue cabinets, you can embrace a more conservative pop of color on a scale you can live with. From unusually colored chairs with an otherwise all-white kitchen to brightly colored appliances, unexpected pops of bright or strong color are another big trend this year.
Welcoming Warm Wood Tones
From wood floors to wood cabinets to wood countertops, natural wood tones are hot right now. But this is not a one-size-fits-all trend.
You can go with dark woods or light. You can go with a lot of wood or a little. You can pair wood tones as you see fit with white, blue or other colors to create a cozy, classic space that suits your tastes to a tee.
Add An Island Or Two
Double islands are popular right now in high-end kitchens. More modest homes usually don't have space for two islands. If you do have space for two, this can be a great way to divide and conquer the space and create separate zones for separate tasks, such as prep work and clean up.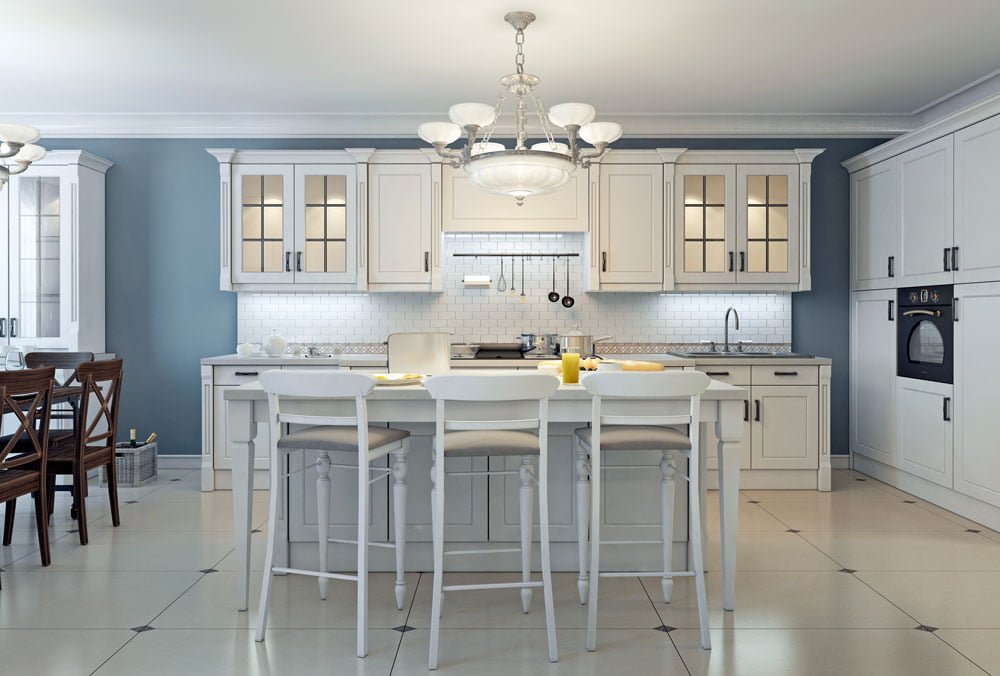 But adding a single island can help make a small home work better and feel more spacious. In some cases, an island can be a substitute for a wall between the kitchen and dining area. If you are willing to tear down a non-load bearing wall to install an island, you may have more space than you think.
Because the kitchen is so important, it is one of the best investments for renovation dollars. Unsurprisingly, people are always on the lookout for good kitchen remodeling ideas at all budgetary price points.
Trickle-down may not work for economics, but it does for this year's design trends 2020. High-end remodeling jobs are a great source of inspiration, but you don't have to be rich to borrow good ideas from them. There are plenty of budget-friendly ways to implement great ideas in your kitchen update that have been test-driven first by people with more money to spare.
If you are looking for an Atlanta Remodeling Company, contact FD Remodeling of Atlanta to discuss your remodeling ideas and get a free quote from an expert.