Did you know that your productivity at work greatly relies on your workspace? No matter how small your area is, as long as you make it your own, you will become efficient at work. Now it's time to make your dream home office a reality with these home office design tips.
Once you love your workspace, chances are you will love your job even more. So don't waste any of your time procrastinating just because you don't have a dedicated space for work at home. Follow these simple steps to become happier at work instead.
Home Office Design Tips to Try
Be more motivated to finish your tasks and end the workday feeling satisfied. With the right mindset and the best space to work on those tasks, there's no excuse not to become productive.
Look Around Your House
The first thing to consider when planning to design a home office is functionality. Although it doesn't have to be an entire room, your home office should serve its purpose.
Look around your house for a space that is underutilized but comfortable enough for you to be productive. This can be in your walk-in closet or anywhere that can help you achieve a work/life balance despite working from home.
Utilize Your Kitchen
Some people don't like the idea of working in the kitchen since it is so accessible by other people at home. When to consider your kitchen, apart from your living room, to be your home office?
When it is well ventilated with extra drawer spaces and lots of storage. Having the fridge nearby is a bonus.
Separate Your Space with a Divider (one of the home office design tips to consider)
If you can't spare yourself an entire room to have a better workspace, you can use a divider to section off a part of a room instead. You can use a room divider, a screen, or a curtain. Once you're able to have a separate space, you can then claim it as your office space.
Know Exactly What You Need
Aside from functionality, one of the best home office design tips to keep in mind is practicality. So make a list of what you need before you start shopping.
If you need more storage space, you can go for a desk with enough drawers or a tall, vertical shelf. Desk organizers are also a good idea to help you stay on track.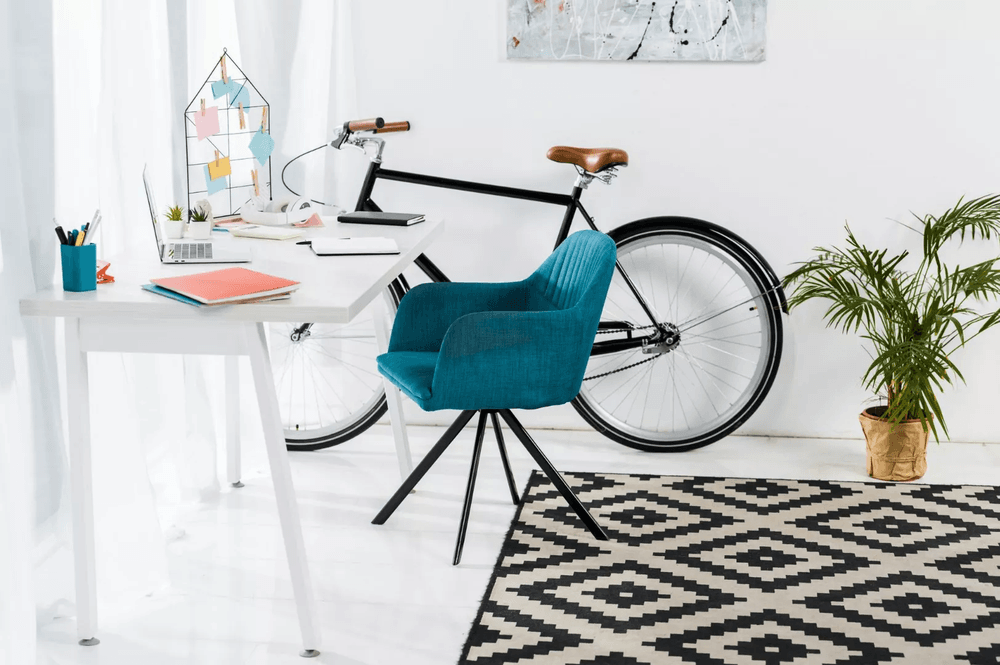 More Home Office Design Tips You Shouldn't Miss
Transform your current workspace into your dream home office using these tips.
Get Enough Light
Having enough light can make all the difference when it comes to staying productive. A well-lit space can boost creativity and can make you feel awake. A dark room, on the other hand, can make you uninspired and feel tired all day.
As much as possible, have natural light coming into your office. Rearrange your desk so it will face a window. If that is not possible, try using a natural light lamp instead.
Try Standing Up
Having a sedentary lifestyle is not good physically and mentally. Standing up from time to time while working is what's recommended. However, it might distract you from staying focused on your work.
Standing up while working is possible with a standing desk. You can simply put it on top of your existing desk and it will allow you to change your position without moving your things.
Aside from helping you concentrate and keeping you energized, standing up while working will also help you get rid of back pains.
Work Outside
If you have an outdoor room or a garden shed, you can turn it into a home office. It will enhance your energy and creativity, especially if you love nature.
Having a separate room outside will keep you from distractions. It will also give you a sense of boundary between home and work.
Add Some Inspiration
Become more inclined to work by adding some inspiration to your office space. You can hang a mood board, put some postcards, or decorate your wall with prints and patterns.
You can also put some indoor plants to encourage a healthier and happier workspace. Regardless of how you want your home office to be an inspiration, see to it that it will not look messy as it will only make your thoughts disorganized.
Looking for the best home office design tips? Get it from the experts.
Getting help from the right people is sometimes the best option if you want to remodel a specific area in your house into a desired space. If you want to have a home office, FD Remodeling brings you the best partial and complete home remodeling service that fits your needs.
Having the right workspace is the key to focus on the tasks at hand. And working hard day in and day out only means you deserve the best space to work on your job. Contact us for a free contractor estimate.
Get more home office design tips on how to remodel your workspace into your dream home office.