Basement Home Theater Ideas
Deciding to turn your basement into a home theater is a great way to utilize the space. Since most basements are made surrounded by concrete, you'll be able to reduce the vibrations from sound, which means you won't disturb your neighbors when you watch a movie. Basements also tend to be darker than other areas of the house, which takes the experience to a whole new level.
Turning your basement into a home theater is also a great way to bring your family and friends together. Read on for some basement home theater ideas that will ensure your family and friends have the amenities that will keep them comfortable.
Transforming Your Basement
When it comes to the amenities and accessories you add to your basement for your home theater, you want to choose items that fit into the space and enhance the movie-watching experience. Here are the home theater ideas you need to consider to transform your basement from boring into an entertaining space.
The Right Seating
Probably one of the most important factors that you need to consider when it comes to basement home theater ideas is the type of seating you'll include. This will be based on personal preference, but you also want to make sure the seats are comfortable. You have a wide variety of options to choose from, including the following:
Tier Seating
If you're hoping to make your basement exactly like a movie theater, then when it comes to home theater ideas and seating, adding tiered seating is a must. This ensures that everyone, including those in the back row, will be able to see the screen with ease.
Oversized Reclining Seats
One of the most common seating options for a home theater is oversized reclining seats. These allow people to put their feet up and relax while they watch their favorite movies. Add some cup holders to the side, and they'll also be able to have their favorite beverage right next to them so that they don't have to get up to get a drink.
Couches
Your home theater may be in the basement, but it can also double as a living space. If that's what you're planning, then having couches is the best option for seating. A couch will still allow people to recline to watch a movie, but it can also double as comfortable seating for conversation when the TV isn't in use.
Screen Size
Another important aspect of your home theater is the size of your screen. You want to make sure that everyone can watch the movie with ease, but you don't want it so large that the picture looks blurry. Knowing what size to get for your basement home theater will depend on how big of a space you have and how far away the seats are. Working with a professional to figure this out is in your best interest.
After you have determined what size screen will work best in your space, the next thing you have to figure out is whether you will use a projection system or get a TV. Either can be a good choice, and it will boil down to personal preference.
If you will be using the space as a home theater and a gathering area, then having a screen that can be covered or lowered from the ceiling might be the best option. This will ensure that it stays protected when not in use.
Since most projectors are mounted on the ceiling or back wall, they will also be out of harm's way so that they don't get destroyed if kids or others get rambunctious while hanging out in the basement. Just make sure your ceiling isn't too low to hang a projector from. If it is, this could lead to heads getting bumped and bruised.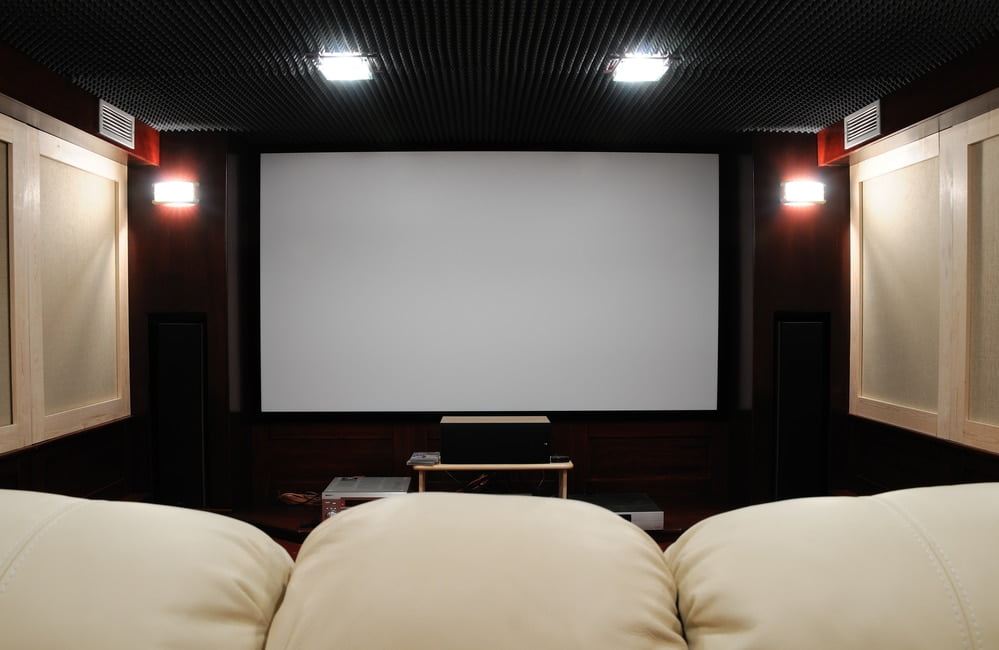 Sound System
Not only should your home theater have the right-sized screen, but you also have to get the right sound system. A professional can help you determine exactly what size speakers you need, if the electrical system in the basement needs to be upgraded and how much bass your house can handle.
Home Theater Ideas for Basement
Once you have decided on the basic elements of your home theater, you can then decide how you want to design your basement. There are so many different options to choose from, including making it look exactly like a movie theater. However, if you want it to be a little more personal, here are some home theater ideas for basement.
Make it a Man Cave
If you plan on having the boys over to watch movies, then you might consider turning the space into a man cave. Having tiered seating or oversized recliners is a good idea, and you might also want to include a bar with some neon lights. This ensures that everyone is comfortable as they watch an action movie, as well as have the best drinks to get them through the film.
Add Some Games
Want to make your basement space multifunctional? In addition to having a home theater, you might also consider adding some games. If you have enough room, you can add a pool table or arcade games to the area. This is a great option if you want to watch your favorite team and play some games as well.
Make it Technologically Advanced
If you enjoy having the latest in technology, then turn your basement home theater into a technological marvel. You can add modern furniture that is functional but also comfortable, and you can have touch screens or voice gadgets to control all of the electronic devices in the room. When it comes to home theater ideas, the right elements can make you feel like you're stepping into the future.
Make Your Home Theater Ideas a Reality
Transforming your basement into the home theater of your dreams requires working with the right professionals. FD Remodeling of Atlanta will have the skills and expertise to help you design the home theater that will work best in your basement. You and your family deserve a space to get away from it all and enjoy each other's company.