A cluttered wardrobe can be the bane of many of our lives, but it doesn't have to be that way. A well-organized wardrobe can be the first step to achieving an organized life and having the knack to easily find exactly what you need without wasting time rummaging through piles of clothes – which can happen all too often with a disorganized wardrobe.
From drawer dividers to stylish multifunctional hangers, there are plenty of ways to keep your wardrobe in check and still manage to look great. Whether you're tight on space or have plenty of room to work with, optimizing the organization of your wardrobe doesn't have to be time-consuming or costly. Read on for seven clever wardrobe organization ideas that can help make your life less cluttered and more efficient.
Introducing the Benefits of an Organized Wardrobe
Having a tidy and organized wardrobe comes with numerous benefits. An organized wardrobe makes it easy to select an outfit for any occasion, as you will be able to easily navigate through the articles of clothing.
This also allows for quicker decision-making in the mornings when you're short on time. Additionally, finding misplaced items of clothing becomes much more efficient. Finally, having an organized wardrobe can help reduce stress and anxiety caused by physical clutter in the home.
Organizing your wardrobe is no easy feat, however. With the right tips and tricks, you will be able to create an orderly closet with ease. Below, we have outlined some of the best wardrobe organization ideas to help you achieve your desired level of order.
1. Utilize Dividers and Containers to Your Advantage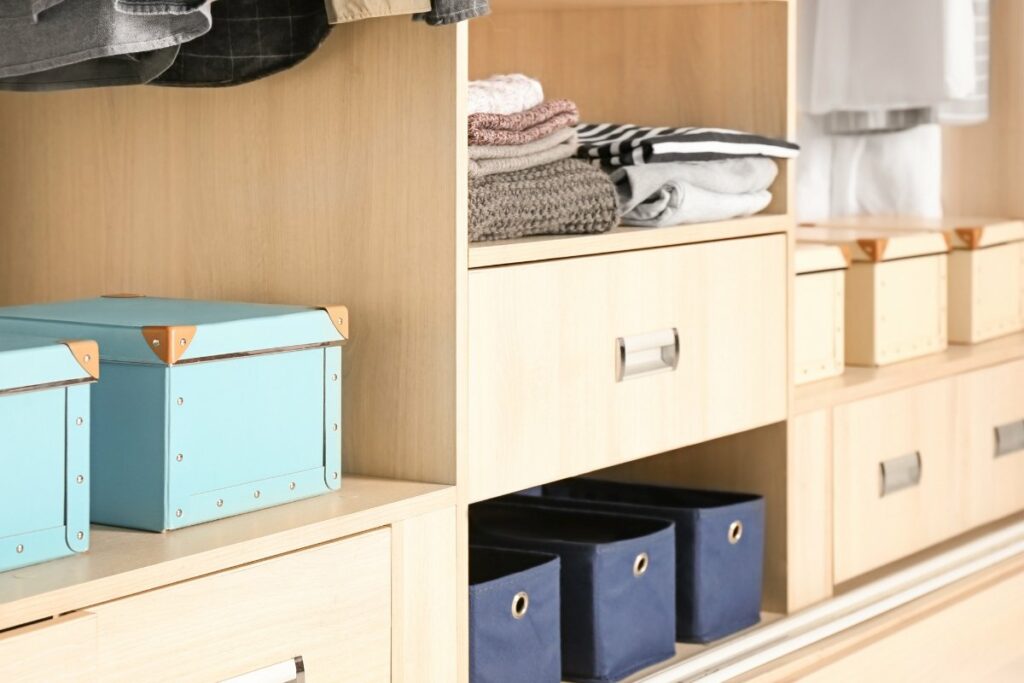 Utilizing dividers and containers to help with wardrobe organization can go a long way in achieving a clutter-free life. Drawers and shelves are great wardrobe organization ideas as they offer dividers and containers to store your clothes and accessories. It's important to organize your items into sections that make sense to you, such as by color, type, or season.
You can then use dividers to further separate these categories, such as vests and sweaters for one section, blouses, and dress shirts for another. Containers can be used to store items like socks, underwear, bathing suits, bras, and scarves. For a clean and organized look, use clear plastic containers so you can easily find the item you need without having to open multiple drawers.
Labeling the items inside can be handy too, so you know exactly what's in each container. When using drawers and shelves, line them up according to their corresponding sections and containers. Doing this will give you a better overview of where everything is and will help with keeping your wardrobe organized and clutter-free.
2. Maximize Hanging Space for Your Clothing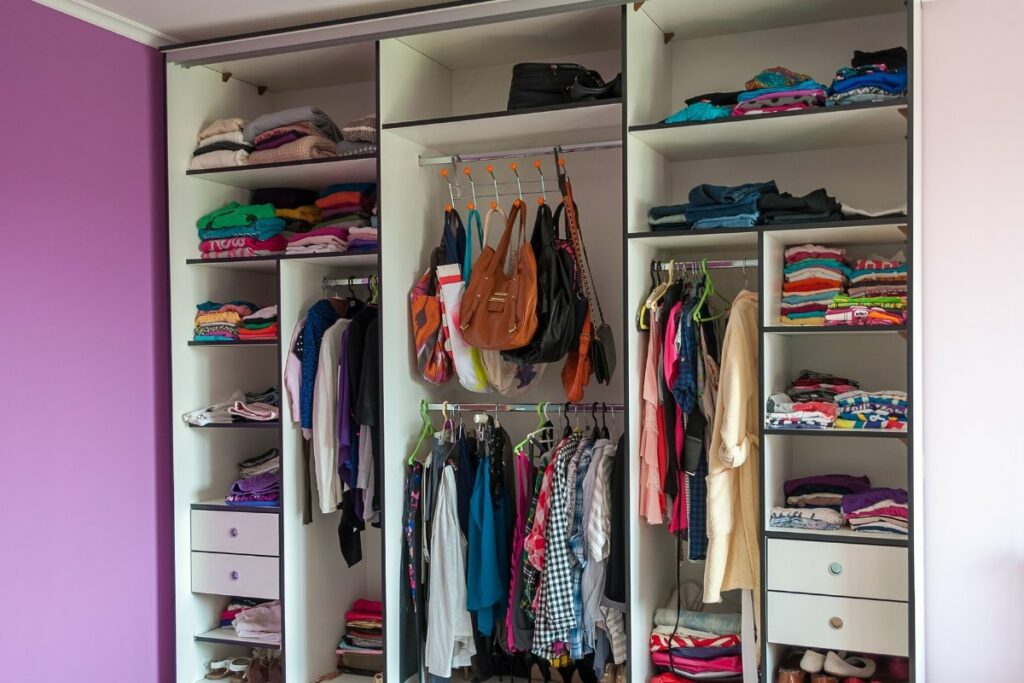 One of the best ways to maximize your wardrobe space is to hang items instead of folding them. This not only gives you more hidden storage, but it also makes it easier to see the items you have on hangers which can help with deciding what to wear. Smaller items like scarves, camisoles, and tank tops should be hung from thin, cascading hangers to save space.
Pants can be hung on skirt hangers while keeping the waistband in place. For coats, jackets, and blazers, opt for slim hangers that keep them pressed and off of the floor. You can even use custom hangers for extra organization; use one color for suits, another for casual clothing, and so on.
Furthermore, you can hang multiple items on one hanger with the help of accessories like clips or racks. Utilizing the vertical space in your closet allows you to easily find what you need and keep your wardrobe organized. Plus, it's a great way to make sure you use all the space available and get maximum wardrobe organization ideas.
3. Add a Dressing Mirror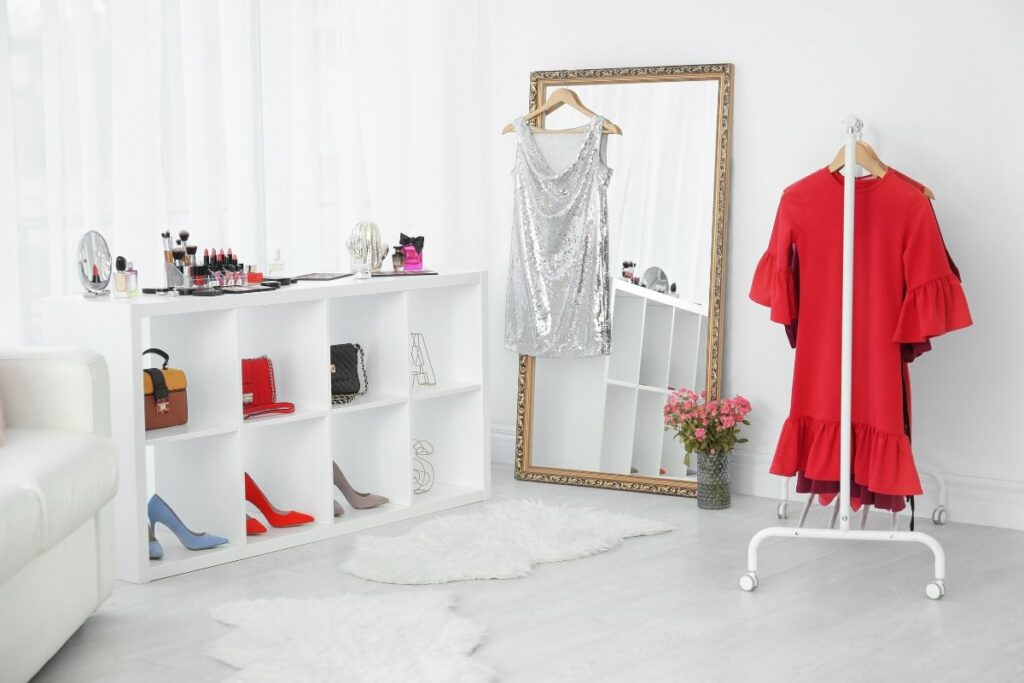 A dressing mirror can be an invaluable component of any wardrobe organization system. Not only does it provide a convenient spot to try on clothes, it also helps you visually assess how your clothing items look together, ensuring that what you have on is suited for whatever occasion you're attending. Additionally, having a full-length mirror in view can help remind you of the items you already have and eliminate the temptation to buy something new.
When choosing a dressing mirror, you'll want one that's accessible but also large and un-intrusive enough to fill the space. The size and type of mirror will, of course, depend upon the size of the wardrobe and the amount of space available. If you have a large wardrobe, opt for a full-length mirror with a sturdy frame. If you have a smaller wardrobe, a wall-mounted mirror might be best.
When it comes to placement, consider positioning the mirror at eye level so you can easily see your reflection. A floor-length mirror placed against a wall works well, or if you need something with more flexibility, a free-standing mirror may be the better choice. In any case, ensuring the proper position of the mirror is essential to help you get the most out of your wardrobe organization ideas.
4. Get Creative With Shelving and Storage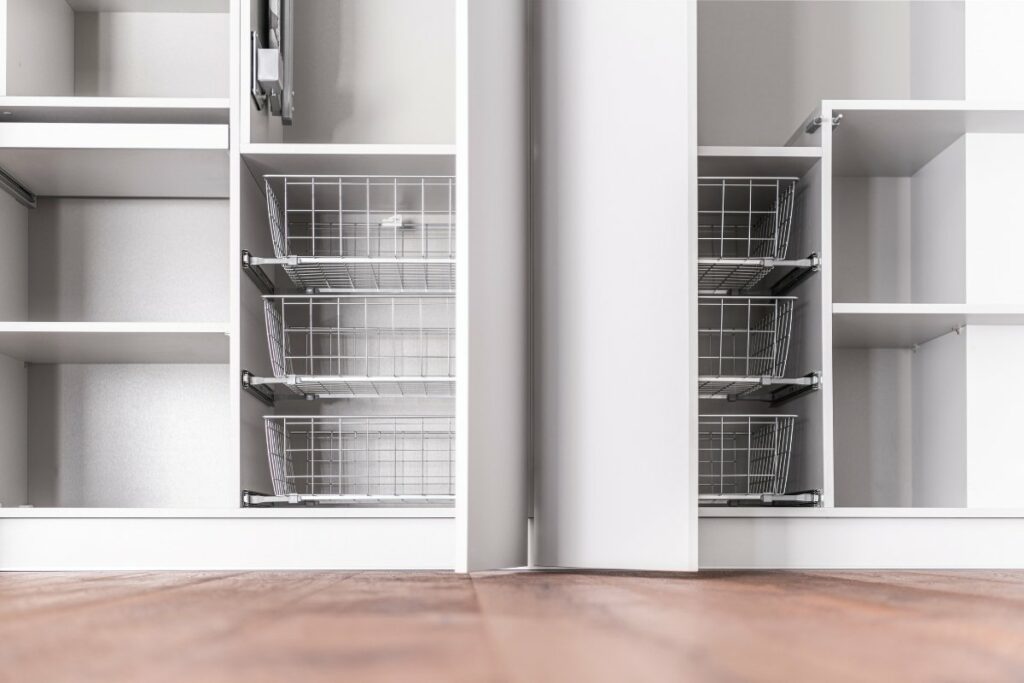 Shelving and storage are key components of wardrobe organization ideas. Utilizing them creatively can provide plenty of options for discerning homes. Here are a few simple shelving and storage tips to keep your wardrobe clutter-free:
Take advantage of vertical space – Install open shelves or hanging clothes racks higher up on the wall for items like jackets and sweaters. Even accessories like hats and scarves can look organized when hung.
Stacks of drawers – for folded items, you can use shallow stackable drawers that are available in many sizes from department stores. Choose one to fit under your hanging clothes and store sweaters and more inside.
Shelf dividers – shelving dividers come in many shapes and sizes and can be used to separate and organize folded items. They are an inexpensive way to make the most of your wardrobe storage.
Baskets – baskets are great for storing small items like socks and underwear, as well as mittens and hats. Look for decorative baskets that fit your decor.
Use hooks – if you have an open wardrobe, use hooks to hang items like ties, bags and other accessories.
Hang a shoe rack – buying a shoe rack is a great way to keep your shoes organized and free of dust. This makes it easy to find specific pairs at a glance.
Utilize closet rods – using the two rods inside a closet creates more room for hanging items. This is the perfect spot for skirts and pants, as well as dresses. These wardrobe organization ideas are just the start of creating a clutter-free environment. With these tips, and a bit of creativity, you can easily maximize your space and keep your wardrobe in order.
5. Take Advantage of Slots and Drawers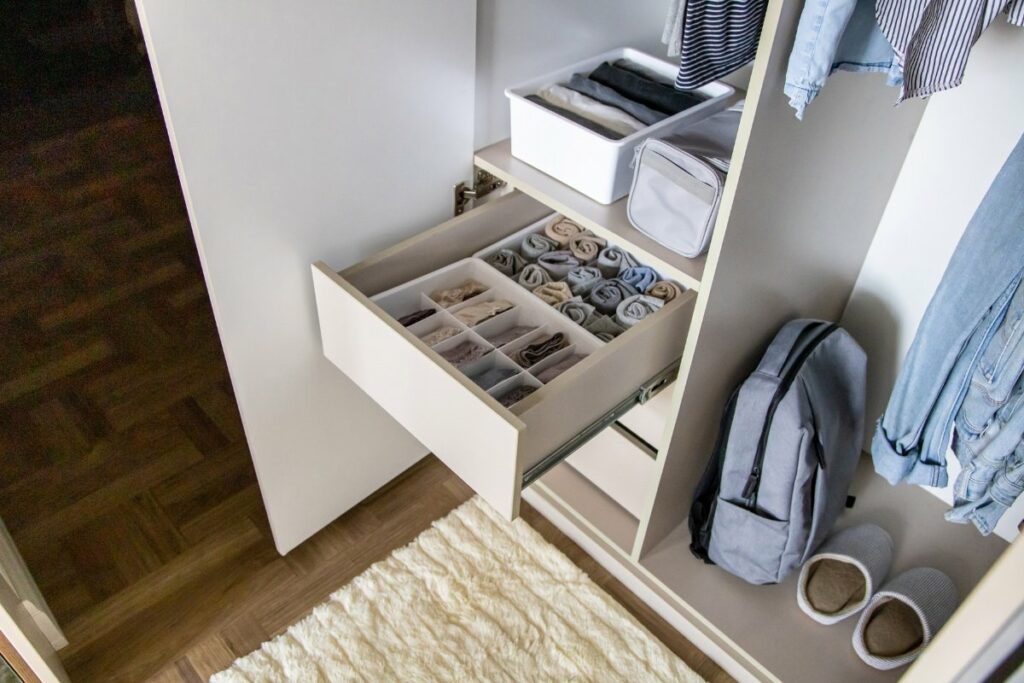 Having an organized wardrobe is essential, so you can easily find what you need without wasting time. Taking advantage of every inch of storage space inside your wardrobe can make a world of difference when it comes to staying clutter-free and keeping your clothes neatly organized. Here are some wardrobe organization ideas to help you maximize the slots and drawers in your wardrobe:
Utilize vertical storage to make use of the empty spaces in-between shelves. Place a shoe rack, canvas organizers or small wicker baskets on top of each other to store hats, scarves, and other accessories.
Make use of the extra area behind the door. Hang a few hooks to hang bags and jewelry, or place a tension rod to hang scarves and ties.
Install drawers under the hanging rods for extra storage. It's also a great way to store your shoes, sweater, and folded dresses.
Place velvet-lined drawer dividers inside larger drawers for organizing clothing items, like socks and underwear.
Install slim drawers at the bottom of the wardrobe for storing shoes, bags, and other large objects.
Put long hangers along the sides. This will give you some extra hanging space for shirts, skirts, and trousers.
Use magazine holders or cardboard boxes to store folded clothes, like jeans and sweaters. This will help you keep your wardrobe organized and clutter-free. By utilizing the different slots and drawers in your wardrobe, you can easily organize your living space and make sure nothing ever goes missing.
6. Choose Multi-Functional Home Accessories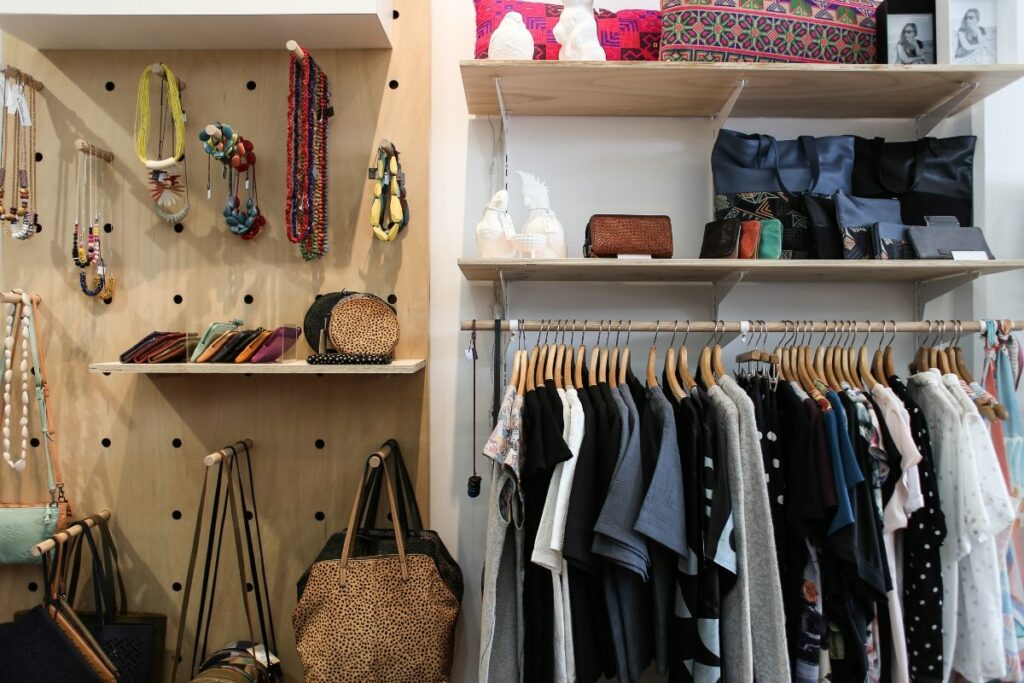 No matter how large or small your wardrobe is, it's essential to keep it organized with effective storage solutions. An unorganized closet can leave items buried or forgotten and lead to frustration when trying to find the perfect outfit. One of the best wardrobe organization ideas is to choose multi-functional home accessories that easily store multiple items and save valuable space.
Hanging organizers are a great way to store bags, scarves, and hats that are taking up precious real estate in your closet. Utilize hanging shelves configured with multiple pockets of various sizes to store items like sunglasses and jewelry. In addition, you can fit multiple pairs of shoes on the shelf with some slots and hooks on the bottom.
The traditional trunk is making a comeback as a stylish bedroom accessory and can double as a wardrobe organizer. Stow away all of your delicates like lingerie and pajamas, as well as jackets, coats, and sweaters. Look for one with drawers, compartments, and plenty of storage space to make sure all of your clothing is secure and accessible.
When selecting closet accessories, take the time to identify the pieces that will serve multiple purposes. Space-saving hangers can fit multiple shirts and pants on one hook, eliminating the need for numerous hangers. A multipurpose rack can store folded clothing, shoes, and bags without taking up too much space. Finally, an over-the-door mirror that doubles as a jewelry organizer can keep baubles, necklaces, and rings tangle-free and organized.
7. Consider Adding a Personal Touch
Adding unique pieces and personal touches to your wardrobe is an excellent way to spruce up your style and help keep your wardrobe organized. Start by finding unique ways to store your clothing and accessories, such as hanging up scarves, purses, and hats on wall-mounted hooks or racks. This will provide a quick and easy way to put these items back in their respective places after you have worn them.
You can also take an artistic approach to wardrobe organization by finding creative ways to display your jewelry and clothing. For example, you could hang necklaces from a wall-mounted coat rack or use an old dresser with drawers to store scarves and gloves. Additionally, you could add individual shelves for purses or ties to keep them organized.
If you have extra closet space, consider placing small baskets on the shelves for organizing smaller items like hats and gloves. Separating items in this way also allows you to easily locate them when you need them. Additionally, for clothes that aren't currently in season, you can utilize garment bags or storage boxes to organize them and keep them safe.
Finally, personalize your closet or dresser with projects you make yourself. You can make your own jewelry organizers out of mason jars or frames, or give yourself a separate section of your closet dedicated to special items like purses or shoes. By being creative, you can find clever wardrobe organization ideas that fit your personal style.
Conclusion
At the end of the day, wardrobe organization is an important part of living a clutter-free life. By taking the time and effort to organize your clothes, shoes, and accessories, you can maximize your closet space and keep your wardrobe organized and looking great.
From using vertical storage solutions to having a dedicated place for all of your accessories, there are many clever wardrobe organization ideas that can help you achieve a neat, seamless look. By taking the initiative to declutter and reorganize your wardrobe, you are sure to benefit from the improved functionality and aesthetic of a well-organized wardrobe.
If you're looking to customize your closet or wardrobe to meet your lifestyle's exact needs, consider working with a professional contractor like FD Remodeling Atlanta. We have a range of remodeling services for residential properties to help meet property owners' specifications, ensuring that you have the best home that meets your lifestyle. Give us a call at 404-857-5582 and let's talk about how we can turn your house into your dream home today!