Are you planning to build a kitchen island this year? But you don't have an idea on where you should exactly place it? How about the right size, the lighting, and the correct counter height? To help you get started, here are kitchen island ideas you should definitely consider.
Kitchen Island Ideas to Try this Year
The Right Placement and Dimensions
A kitchen island will only be functional if you can freely work and move around it. So a kitchen island must be at least 4 feet in length. It should also be at least 2 feet in width but not more than 4 feet. But if you think your kitchen doesn't have enough space for an island, then maybe, adding a kitchen island is not right at the moment.
There must be enough space between your island and the other furnishings around it, such as the cabinets. Because one of the most important kitchen island ideas to consider is whether or not your floor plan permits it.
Types of Seats
The kinds of seating your kitchen island should go with depends on the height of your island itself. For example, a chair will do better for a counter that is 30 inches in height. Whereas an eating area that is 36 inches high will work best with a low stool. While a bar stool is what's best for a kitchen island that has a 42 inches high counter but not more than 48 inches.
The idea of a dual-height kitchen island will also make a kitchen more functional. Apart from having an informal eating space, it will also protect whatever ingredients are still not cooked from the splashes while washing. Plus, it's a great way to cover unclean dishes.
Lighting
Next on our list of kitchen island ideas is the choice of lighting. When it comes to lighting, dedicated lighting that is pointed right into the counter is what's recommended. Unlike the other parts of the kitchen, a kitchen island has no cabinets above where you can rely on some lights.
If you are not using a high ceiling in your kitchen, recessed lighting will be a great choice. But hiding your light within your ceiling is only ideal for ceilings that have a standard height. Otherwise, you will need some fixtures that will not spread the light out but rather focus on your countertop. This will be a necessity if your ceiling is more than 6 feet away from your kitchen island's countertop.
A good example of light to use is pendant lighting. It is perfect for kitchens with high ceilings as it hangs from the top. However, if you fail to get the right height, it may obscure your view when working from the island. It may also blind your vision as the light is directed towards your eyes. That is why it is important to be able to dim your light regardless of what type you choose to use.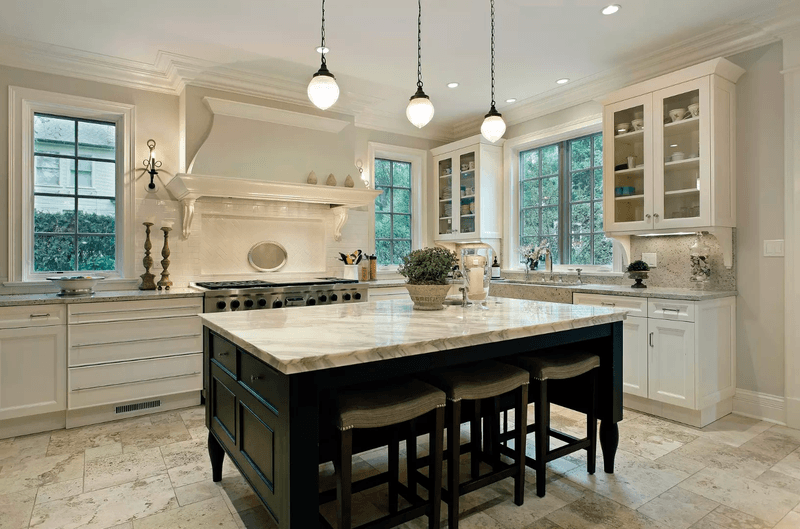 More Kitchen Island Ideas to Consider
Storage
The particular use of your kitchen island will determine how much storage space it should have. Since it is isolated, make sure that you will not be going to and fro to get the utensils that you will be needing.
If your kitchen island is mainly for cooking, see to it that there is enough room to hold your spices, especially your pans and pots. Having proper ventilation either through a vent hood or a downdraft fan is also something that cannot be ignored.
For storage space kitchen island ideas, you can utilize the space underneath your cooktops to be made as drawers to store your pans and pots. Hanging them using a pot rack is another great option. However, aside from blocking your view, it is also not capable of holding lids and deeper pots.
On the other hand, if your kitchen island is intended for food preparation, space for small appliances must be considered. Examples are for food processors and mixers, as well as for the different kinds of knives. Your trash bin must also be accessible from your island, as well as your compost bin.
If your island is for you to have more space for cleanup, then you need to have storage for the dish soap, dish towels, and brushes. But then again, you must have easy access to silverware and dish storage. Also, position your pull-out compost and garbage bins near your sink.
Underneath your countertop is where you can put your oven, dishwasher, or other major appliances. Make sure to also take advantage of the storage space on both sides of your kitchen island. Open shelving is a perfect idea for this.
But how does knowing these kitchen island ideas important before you even start? And why build one in the first place?
Why Build a Kitchen Island in the First Place?
We all know that the kitchen is one of the most important parts of a house. But what completes a kitchen is a perfect breakfast bar or the so-called kitchen island. Aside from enhancing the look of your kitchen, a kitchen island also makes doing stuff in the kitchen more convenient. No wonder why it becomes the center of your kitchen.
A kitchen island makes cooking and preparing the ingredients a lot easier since you can access it from all its sides. It also makes cleaning up easy plus, it is a great spot for a quick breakfast or informal dining. So to know the do's and dont's of building your first kitchen island, here's FD Remodeling to help you out.
We are general contractors located in Marietta providing services to Atlanta such as home remodeling and restoration. Our kitchen remodeling services are intended to help our clients make the most out of their guests' visits while easily preparing their food. You can also explore different options with us. Whether you are planning a complete overhaul or you are only up to a modest renovation, the choice is all yours.
So are you still looking for the best kitchen island ideas to make your kitchen look better? Enhancing your home by making it attractive and functional is actually our top priority. So contact us today to get your free estimate.