Kitchen remodeling can be intimidating, but with the right planning and execution, it can be a great addition to your home. If you follow these five best practices in remodeling your kitchen, you can ensure a successful kitchen remodel project that will improve your home's value and functionality.
Here are the 5 best practices for kitchen remodeling that will make the process easier and more successful.
Plan Ahead
Choose the Right Colors and Styles
Use Durable Materials
Keep It Organized
Take Advantage of Storage Solutions
Remodeling Your Kitchen: How to Plan Ahead?
When it comes to remodeling your kitchen, there are a few things you should keep in mind. First and foremost, it is important to plan ahead. Here are some points to keep in mind during this step:
Planning ahead for a kitchen remodel project means creating a budget and sticking to it so that you know exactly what you need and don't overspend.
Additionally, think about what style of kitchen you would like to have. Do you want an updated look with modern appliances or do you want something more traditional?
Once you have a general idea of what you want, start narrowing down your options by looking at different kitchen styles online or in magazines.
After having a good idea of what kind of kitchen you want, start shopping for the necessary appliances and materials. Make sure to read reviews before making any purchases.
Remodeling Your Kitchen: How to Choose the Right Colors and Styles?
When it comes to remodeling your kitchen, you want to make sure that you choose the right colors and styles. Here are some tips to help you choose the right ones:
Choose a Color Scheme
Choose a color scheme that will work with your existing decor. If your kitchen is already decorated in a certain style, stick with that theme. However, if your kitchen is more modern or contemporary in style, go with a different color scheme.
Consider You Appliances and Furniture
Consider what type of appliances and furniture you have in your kitchen already. If you have an old oven or refrigerator, go with a traditional color scheme like browns and yellows. If you have newer appliances or furniture, go for a more contemporary style like black and white.
Remodeling Your Kitchen: Use Durable Materials
When remodeling your kitchen, you may want to consider using durable materials. This will help to ensure that your kitchen remains in good condition for years to come. Some durable materials that may be a good option for your kitchen include granite, tile, and wood.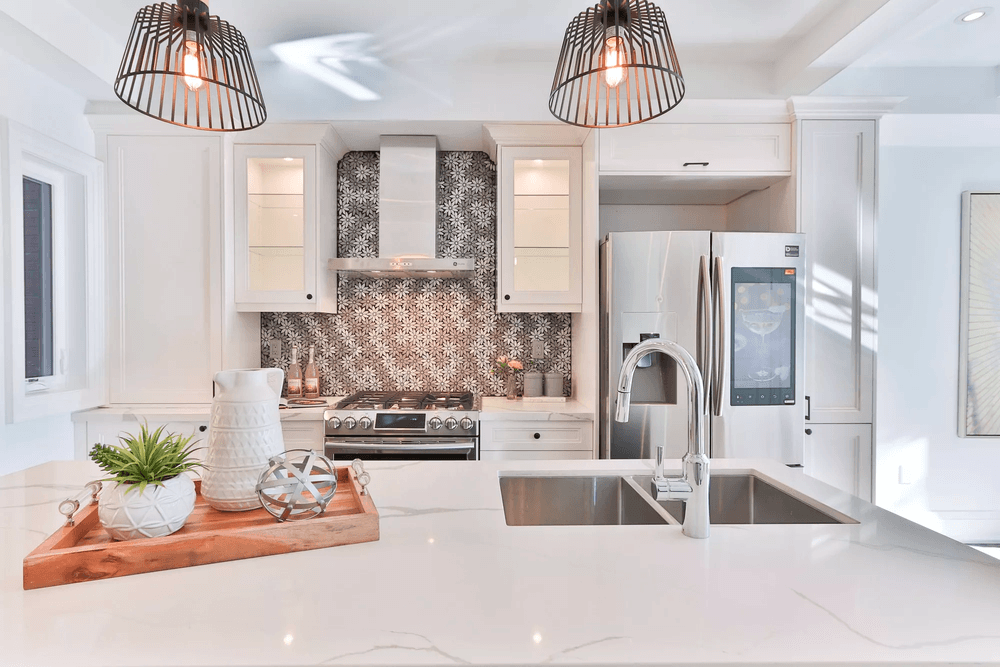 Remodeling Your Kitchen: Keep It Organized
Keep a kitchen organizer on hand to store all of your cooking utensils, pots and pans, and other cooking supplies.
Label all of your cabinets and drawers with corresponding items so that you can easily find what you are looking for.
Install organizers in the pantry and laundry room to keep food storage areas tidy and free from clutter.
Install a pegboard in the wall near the sink to hang up utensils, dishes, pots, pans, etc. This will make it easy to grab what you need without having to search through piles of dishes.
Install a magnetic strip on the back of your refrigerator so that you can hang up kitchen essentials, such as a dishtowel, potholder, and oven mitts.
Remodeling Your Kitchen: Take Advantage of Storage Solutions
One of the best ways to maximize your kitchen space is to take advantage of storage solutions. Here are a few tips to help you in the process:
Create a custom pantry or install a wall-mounted unit that can hold all of your cooking supplies.
Use cabinet space more efficiently by storing items on lower shelves.
Consider installing a pull-out pantry cabinet so you have more storage available when you need it.
Take Advantage of Our Remodeling Services!
A well-planned kitchen remodel can save you time and money while improving the look and function of your kitchen. And following these five best practices will enable you to remodel your kitchen without any problems. But if you want a more hassle-free remodeling project, take advantage of our remodeling services!
FD Remodeling offers a wide range of remodeling services that remodeling your kitchen will be very easy. So grab this opportunity and contact us today.