Planning to transform your backyard into a more useful living space? Here are the benefits of investing in outdoor kitchens.
If spending time outdoors is something that interests you, then might as well try outdoor cooking. Even if your outdoor space is not that larger, you can still enjoy the following benefits.
The Top Benefits of Investing in Outdoor Kitchens
Choose high-quality components and materials to make sure your outdoor kitchen can withstand the changes in the weather and will last a lifetime.
High in ROI but Low in Energy Consumption
There's nothing better than having a tool to help you reduce your energy consumption. Although building an outdoor kitchen requires you to spend a good amount of money at the beginning, it can be a good investment in the long run.
When used more often, outdoor kitchens promise a high return on investment. And since you do the cooking outside, the temperature inside your home will not necessarily rise. This means your HVAC system will not be forced to function as much. And of course, you don't also have to turn on the lights when cooking in the daylight.
Great for Entertainment
Outdoor kitchens make it easy to accept guests and throw big gatherings. Plus, grilling up something outside makes a good form of entertainment while catching up. Imagine spending barbecue nights and pool parties by the grill.
It makes cooking and eating outside a lot easier, especially during the summer. It also makes prepping more convenient since you don't have to keep running to and fro just to get the ingredients. You can do everything right in one spot.
You can also save on both money and time as you no longer need to travel whenever you want to eat outside. Always something to look forward to, especially when the pandemic is over. And spending time outside is good for your mental health.
Eliminates Bad Smells Inside Your Home
While some love the smell of spices and other raw ingredients, some people don't like it as much. So for those who want to keep the smell of cooking at bay, an outdoor kitchen is the solution. It keeps the smell outside your home and leaves your indoor kitchen smelling fresh instead.
Since outdoor kitchens are an open area, the smell does not linger for long periods of time. However, depending on your location, some kinds of smell may attract certain creatures nearby.
Makes Your Home More Valuable and Resaleable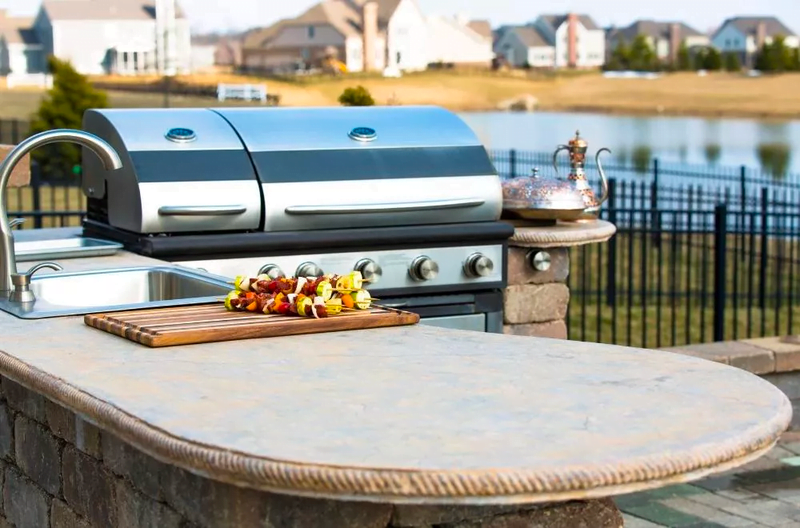 Any kitchen remodel attracts future buyers. So how much more having an additional one outside, right? In fact, outdoor kitchens are getting in demand. This is especially true for those living in areas where outdoor dining is more possible in most parts of the year. So having an outdoor kitchen makes your home more resaleable as it adds value to it.
Outdoor kitchens can make your house stand out. That way, you can increase its resale price, especially if such a feature is not common in your area.
Who to Trust When It Comes to Building Outdoor Kitchens?
Convinced of transforming your outdoor space? FD Remodeling can build outdoor kitchens according to your preferences.
It's always a great idea to go out once in a while and an outdoor kitchen is a perfect spot to enjoy great food and quality time with family and friends. And with the help of the experts from FD Remodeling, you can always turn your current living space into a place you've always wanted. We even offer financing options to make your home your most valuable asset even more possible.
So plan your outdoor kitchens with us. Contact us for a free estimate and enjoy these benefits.