Customizing your shower can give your bathroom that extra boost it needs to become a true oasis. Not only that, but it will significantly increase your home value if you ever decide to part ways.
Even the most unique and niche bathroom remodels can create a bidding war with the right customer. Browse our list of 5 custom shower ideas to get some inspiration for your next project.
When you're ready to get started, we'll be here to answer all your questions and provide you with a quote.
1. Add Dimension with Distinctive Doors
Partial and full shower doors come in a variety of designs and each will add a unique look to your custom shower.
If you are going for a modern, elegant look, try an ombre shower screen. These partial doors are clear at the top and darken to black at the bottom. This way visitors can see your gorgeous tile work but you'll still retain some privacy. (See image below from Amazon)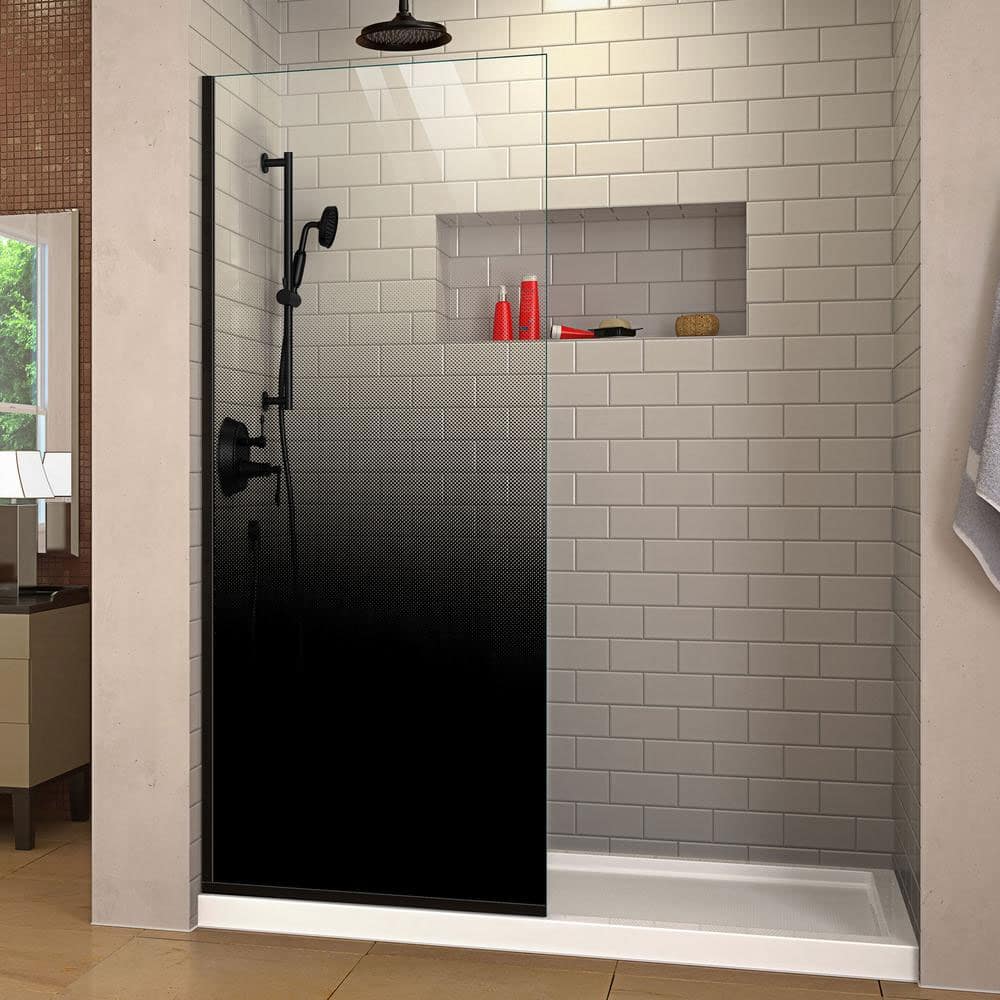 Other shower doors have etched designs that can create a wave effect or depict a tree, perfect for those beach or nature-themed bathrooms. Or you could always go with a framed door for a zen feel.
2. Get Creative with Mixed Tiles
If the rest of your bathroom design is fairly simple, using mixed tiles could add that wow effect your custom shower needs.
While rectangular, subway tile is a popular option for modern showers, it doesn't exactly scream custom. If you're looking for a similar effect though, choose a pentagon tile in white and add a line of black subway tiles for the soapbox.
If you're feeling a bit more adventurous, you can choose a basic tile for the overall look and work with your designer to cleverly place patterned tiles throughout the shower.
You don't have to mix tiles for a unique look, though. Choosing a bold color, shape, or placement design can also create a shower that will impress.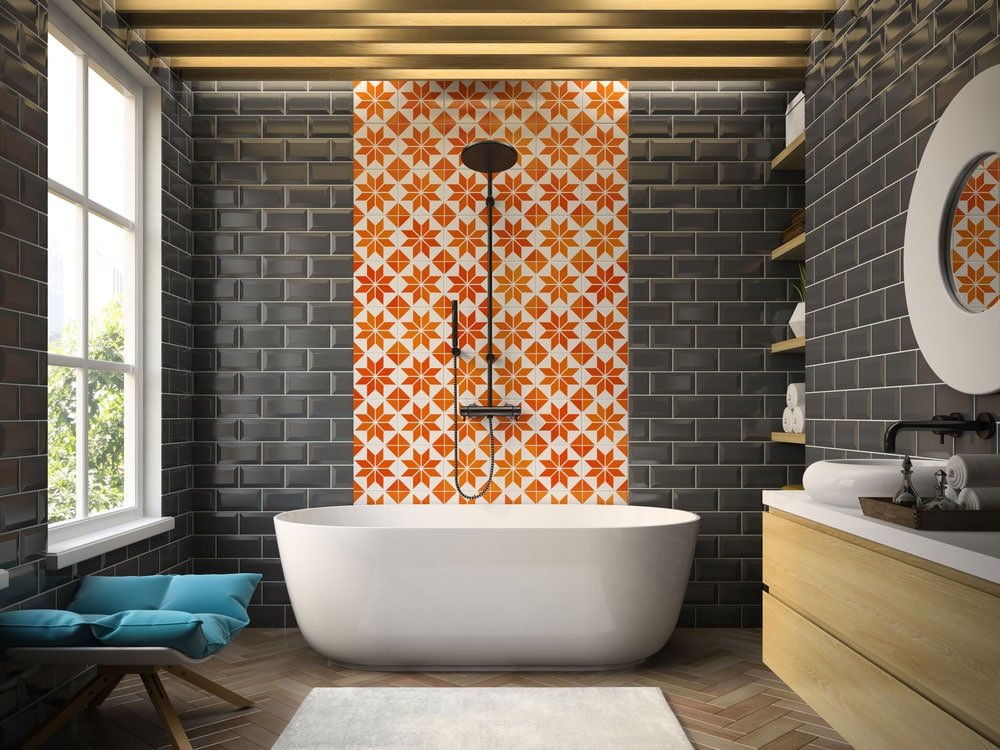 3. Create Comfort with Unique Seating
Since you're most likely foregoing a tub for your dream shower, you may want construction that adds a little more comfort than the traditional design.
One of the most popular innovations that have surfaced is his and her showers. These showers have an entrance in the middle with two bench seats. One is placed on the right for him and one on the left for her.
Other seating options include wood slate benches that can be removed and built-in tile designs that function like a chaise lounge.
Another unique option is a floating bench. These are typically made of a slab with a similar design to your shower tile. They are highly unique and will wow any guest or potential buyer.
The seats allow for greater comfort and ease of your shower experience.
4. Make an Oasis with Creative Shower Heads
The days of a single, stationary showerhead are long over. Today, there is an ample number of options for your remodel. From unique pressure options to creative placement, the choices are endless.
Of course, it is important to discuss with your contractor the logistics of adding multiple or uniquely placed showerheads. Depending on your existing water lines and your budget, your creativity may be limited.
Here are a few custom shower ideas to get you started:
One of the most popular custom shower heads is the rain shower head placed at the center of the shower on the ceiling. This provides your shower with a waterfall effect and gives the design a minimalist look.
However, this showerhead alone is not always the most practical option. Adding side shower heads in addition to the ceiling head will provide you with multiple angles.
These side shower heads can be removable, stationary, or a combination of the two depending on your needs.
If you want to really optimize your shower experience, consider adding a steam shower option. There are several systems out there but they are usually mounted around your shower head and have a minimal protrusion.
Spray shower panels are another sleek choice. They include a fairly standard shower head attached to the top of a panel of jets that can spray water at multiple angles for an amplified shower experience.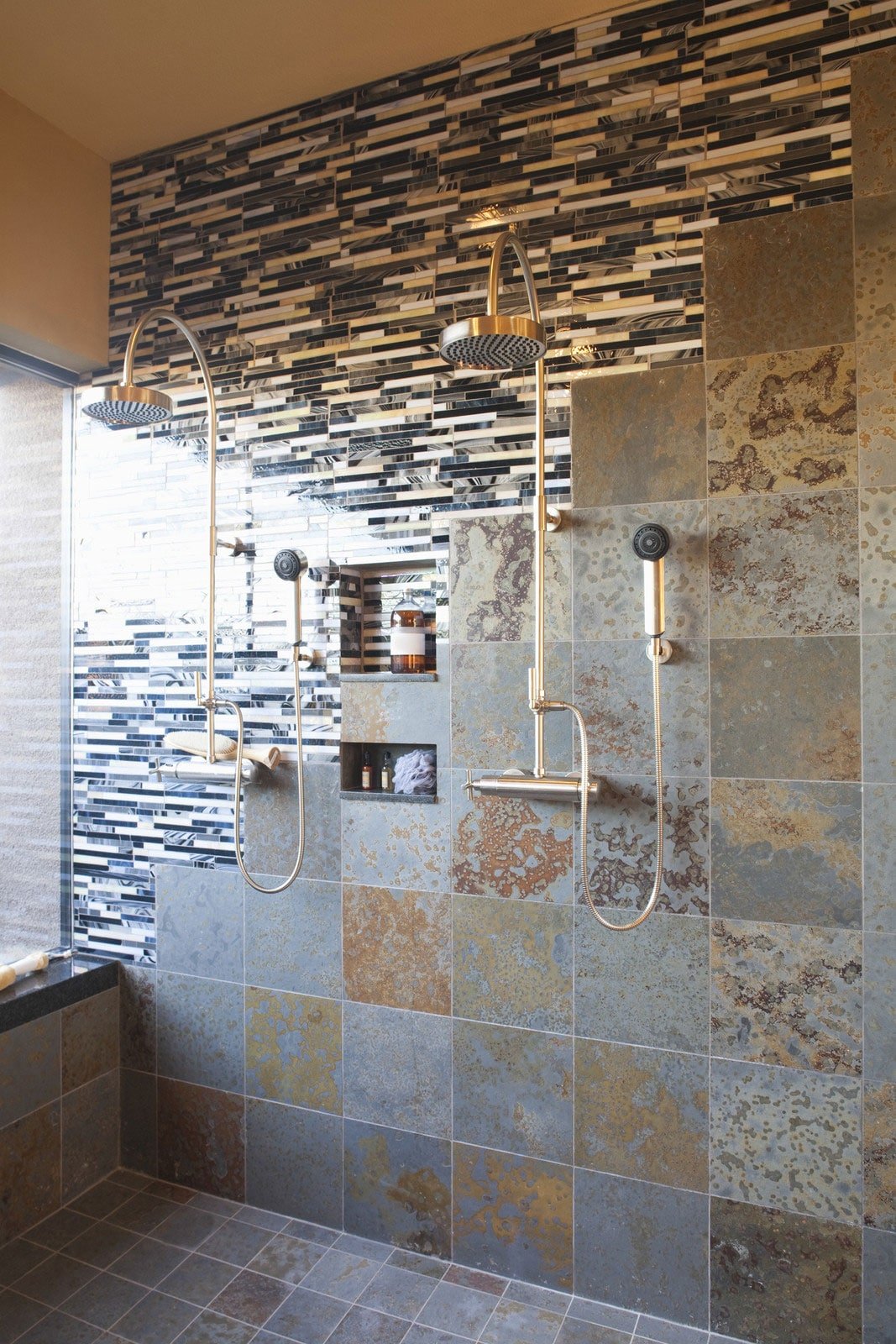 5. Customize your Vibe with Bright Colors
Neutral colors are a big draw for modern home design, especially in the bathroom space. However, this can leave you feeling like your restroom has no energy or lacks a certain vibe.
Whether you're looking to liven up your morning shower or mellow out your evening steam session, adding a color wall or a color block can help you achieve your goal.
The first step is to choose a colored tile. A bright red will wake you up in the morning, while a spa blue will relax you at night. These tiles can be chosen to cover the entire shower, one wall, or only a select section.
You don't have to restrict your design to the walls of the shower, either. A colorful or mellow floor mosaic goes a long way to impress guests and future buyers alike. By opting for neutral wall tiles and a colorful floor, your shower will feel customized to your taste while keeping a neutral pallet for the overall feel of the room.
Helpful Dos and Don'ts of Shower Renovation
Do: Consider both form and function.
Do: Make a budget.
Do: Consider resell value
Do: Create a cohesive theme.
Do: Hire a trusted professional.
Don't: Forget about function/storage.
Don't: Discount lighting (natural and artificial).
Don't: Underestimate your budget.
Don't: Cut corners on essentials.
Don't: Disregard the environment.
Overall, customizing your shower should be a fun and painless process. With the right help from a trusted professional, you can have the shower of your dreams within your ideal budget. If you're ready to jumpstart the process, give us a call!