Best Flooring Options For Every Room
The type of flooring you choose to put in your home can be an important decision. What you choose can change the design of your home and have a large impact on how you clean and maintain your floors. Some flooring types are more difficult to install or more expensive, so it's important to weigh your options carefully.
Be sure to spend some time considering what flooring options will be ideal for the space, what your budget is, and what style you're trying to achieve. From there, you should be able to choose the best flooring options for you.
Laminate
Laminate can be one of the best flooring types if you're looking for something that is inexpensive and easy to install. It's also quite durable and comes in a lot of different styles and colors to ensure you're able to achieve whatever style you're going for. One of the drawbacks of this flooring is that it can often be damaged as a result of moisture, so it does not work well in the bathroom or kitchen.
Hardwood
One of the most popular, sought-out flooring options on the market is hardwood. It looks great and has a high return on investment, making it one of the best flooring options to go with if you can afford it. It's one of the more expensive flooring types, but works the best for your home's main floor living area. While it works best in high-traffic areas, it can be prone to a lot of scratching and other signs of wear. Thankfully, you can fix these things by refinishing your hardwood every 3 to 5 years.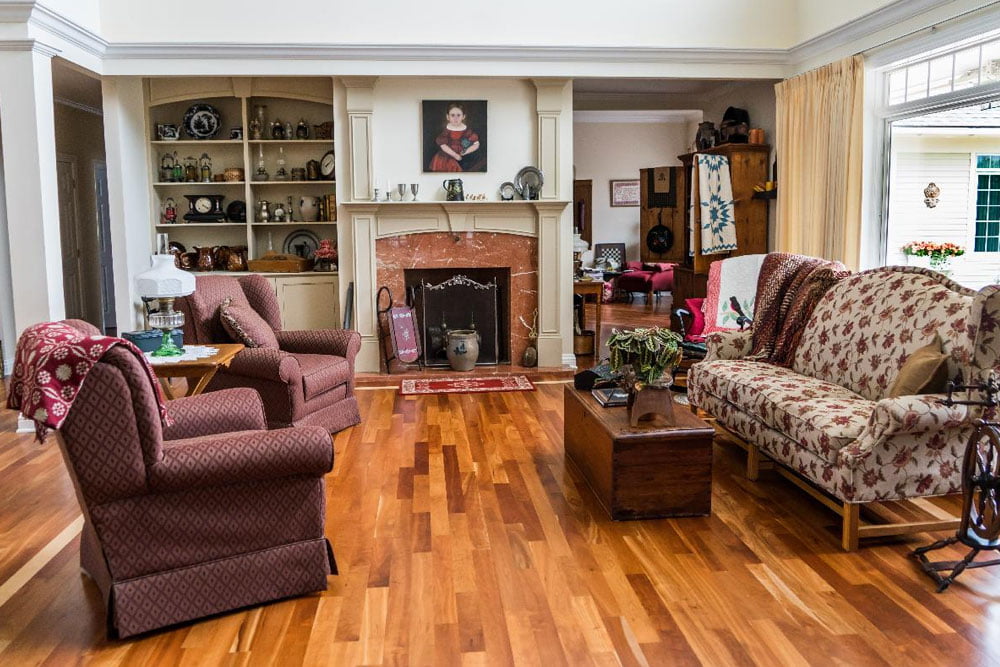 Linoleum
Linoleum used to be a cheap, non-durable version of some other, more popular flooring options. Now, it has morphed into a material that works great as a durable alternative to wood or stone. This type of flooring is perhaps the most versatile. It's also extremely easy to install and maintain it.
Porcelain
Ceramic or porcelain tile is a great choice for bathrooms and kitchens. Not only is it waterproof, but it's also very durable and non-porous. Although it can be a bit difficult to install and will chip and scratch easily, you can replace just sections of the floor rather than having to rip up the entire thing.
Carpet
Carpet is perhaps one of the best flooring types for bedrooms. It's soft, seals in warmth, and reduces noise. It's also relatively cheap to install, but does require more maintenance. You'll need to regularly vacuum it and should also get it shampooed or steam cleaned at least once per year. Not to mention, if you spill something on it, it can be more difficult to clean up unless you have carpeting with stain-resistant coating.
Natural Stone
Natural stone flooring can be made of granite, travertine, marble, or sandstone. Each material looks beautiful, but will require different care in order to maintain. Some materials are also more durable than others. Marble, for instance, will scratch easily while travertine is really durable, so you'll want to pick the appropriate stone based on the traffic of the room you'll be installing it in.
It can be difficult to choose the best flooring options for each room in your home. Be sure to consider all of the pros and cone of each type of flooring and don't just pick what you think will be most aesthetically pleasing. Each type of flooring has a room that it will work best in.
Flooring for Bathrooms, Laundry Rooms, and Kitchens
Tile or vinyl flooring is going to work best in a bathroom or kitchen. These materials can get wet and are more durable than others.
Flooring for Living Rooms
Carpeting and hardwood are the best options for living rooms. They're comfortable and stylish but still pretty durable.
Flooring for Hallways and Stairs
Carpet or hardwood are the best choices for your hallways or stairs. It's easy to cut them into smaller pieces to fit these spaces.
Flooring for Bedrooms
Carpeting works best in your bedroom. It's soft and warm on your feet and helps reduce noise.
Choosing the best flooring for a space can be a difficult decision. Be sure to carefully consider which type will work best for every space in your home and consult with a professional if you need more information or help installing flooring.