Top Bathroom Upgrades That Add Value to Your Home
It's no secret that bathroom remodels continue to be one of the best investments we can make in our homes.
Before getting started, however, we need to answer a few questions first.
How large will the bathroom remodel be? Will it require a new layout or just a remodel of the current space?
What fixtures need to be added or replaced?
What is the budget for the remodel? Consider not only the upgrades but also the professionals you will need to hire, from remodeling experts to plumbers. Build in a little flexibility for those unexpected circumstances.
By getting clear on what it is we want to accomplish, and setting a budget, we can complete the bathroom upgrades faster and more efficiently.
As with any upgrade, certain plans are better than others when it comes to adding value to your home. The following are the features that will add the most value to a bathroom remodel:
Upgrade Your Toilet to a Modern Low-Flow Toilet. Buyers these days are often looking for eco-friendly solutions as well as efficient usage of utilities. A modern, low-flow toilet will reduce water usage.
Make Your Shower a Focus Point. The shower is one of the biggest bathroom upgrades we can make. Appealing walk-in showers are not only aesthetically pleasing; they are highly desired by buyers. Consider adding a glass shower enclosure. Also, add double showerheads or a rainfall showerhead. For a touch of added luxury, add a shower seat. You may even want to consider adding a steam shower. Popularity for these is on the rise as they greatly reduce the amount of water required.
Add a Freestanding Bathtub. If you have room, add a freestanding tub. This can be a pedestal tub, clawfoot tub, or other modern design – depending on the design style you have chosen for the overall bathroom. Adding jacuzzi jets is another option.
Install Double Sinks. We all want and need plenty of space for daily grooming, and a double sink vanity can provide this.
Upgrade the Vanity. An upgraded, custom vanity will draw the eye of a buyer, and can also add additional storage space options.
Customize Bathroom Features. Small but smart changes can increase the value and look of your bathroom remodel. Consider updating faucets, showerheads, and cabinet hardware.
Create Better Lighting. Natural light is not only healthy for us; it is also appealing. Consider adding windows to let in more natural light. Also, consider installing recessed lighting around your mirror and light in the shower.
Consider the floors and walls. There are several features you can change to enhance your bathroom space, and also add value at the same time. These include

(a) Paint: neutral colors are the best option as buyers will see clean lines and also have the ability to make changes if they choose.
(b) Backsplash: depending on the overall design and feel you are attempting to create in your remodeled bathroom, a backsplash can be a good addition.
(c) Shower Flooring: Consider carefully the tile for your shower's floor. Make sure it prevents slipping, as much as possible, and also are easy to clean.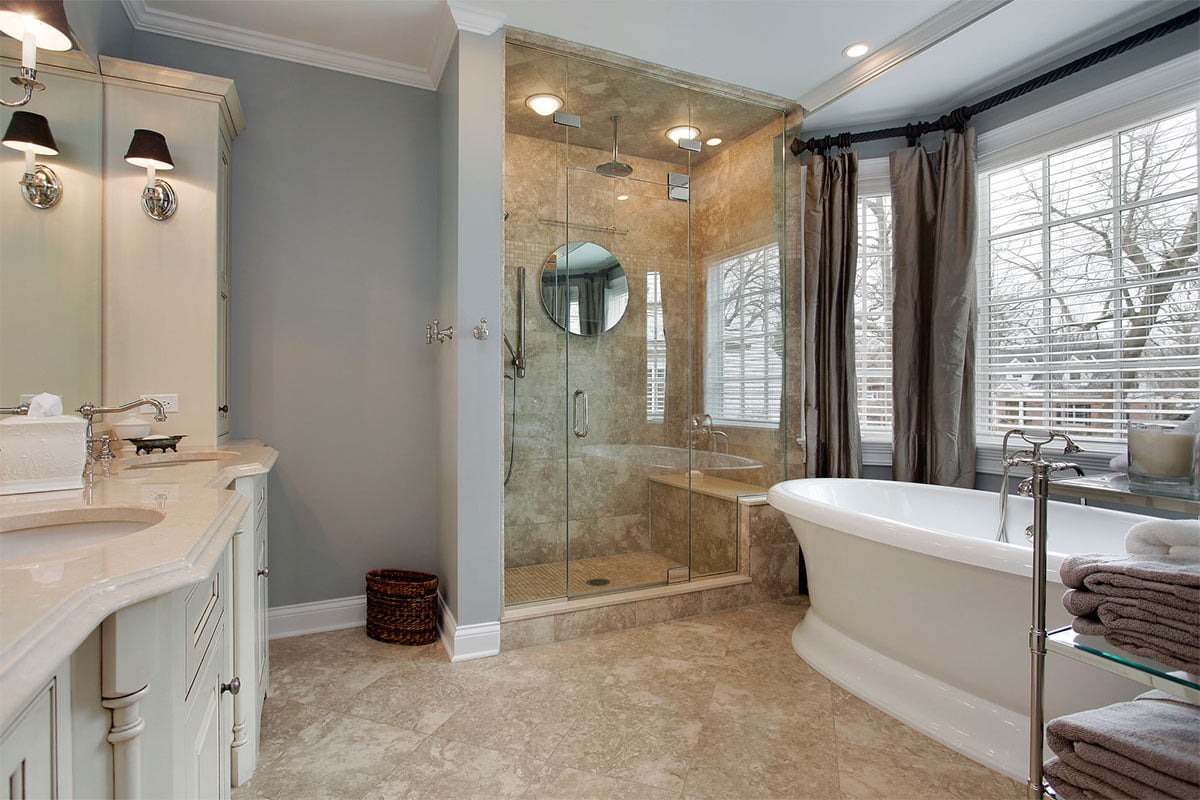 What Not to Do in A Bathroom Remodel
While there are plenty of good options, there are also a few don'ts to be aware of when remodeling your bathroom. These include:
Don't crowd the space you have available. If there's only room for a shower, don't try to crowd in a bathtub as well.
Don't go trendy. Bathroom trends come and go quickly. Stick with a timeless style. Focus on neutral colors and simple or classic fixtures.
Don't forget about Storage. Find ways to add storage options to your bathroom, such as a recessed medicine cabinet and a small linen closet. Your new vanity can also have drawers for day-to-day item storage.
Don't choose the wrong professional help. Make sure you research your choices for professional help and hire only high-quality remodel experts.
Bathroom upgrades that add value to your home, if done right, can also make your bathroom more stylish, more functional, and more efficient at the same time. There are several ways you can save on a bathroom remodel, contact FD Remodeling Atlanta for help on your bathroom project.