Fire Damage Repair & Restoration Services
Has your home or business sustained fire and smoke damage? Request fast assistance from FD Remodeling LLC, a provider of Atlanta Fire & Smoke Damage Repair And Restoration Services. We help property owners recover as quickly as possible from this type of devastating setback!
Free Estimates
Long-Term Damage
Today, more effective sprinkler systems and fire response services frequently help property owners prevent small fires from growing into huge blazes. Yet even comparatively brief conflagrations sometimes result in expensive fire and smoke damage. Flames may cause unsightly charring, detracting from the lovely appearance of real estate. Equally unpleasant, a fire may release noxious gases into the environment as different types of materials burn. This destruction contributes to lingering odors. The fumes may render even untouched areas of a home or business uninhabitable.
Fortunately, across the Greater Atlanta Area, FD Remodeling offers timely Fire Damage Restoration services. Contact us to request a free estimate if you've experienced a fire on your premises recently. We assist both individuals and commercial enterprises. Our valuable service helps clean and refresh (and restore) realty, fixtures, and personal belongings.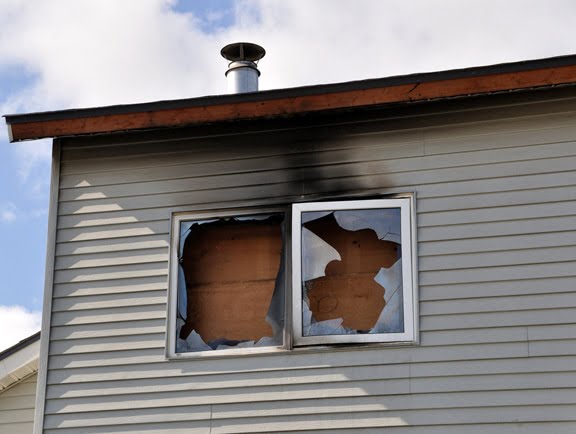 The Importance of Taking Fast Action After a Fire
When a fire causes property damage, experts recommend undertaking swift fire damage repair. It may prove vitally important to extract noxious chemicals and lingering odors from the premises. This type of restoration activity requires training to accomplish safely (and effectively). Both homeowners and businesses appreciate the rapid availability of FD Remodeling. Contact us quickly. We'll help you begin the process of restoring fire-damaged premises to a healthy, habitable condition once again.
We resolve harm caused by a variety of sources (including natural disasters and water damage). It surprises homeowners to learn water damage frequently proves significant at fire damage scenes. Fire departments often drench sites with chemicals to help ensure hot ashes won't reignite. Additionally, sometimes sprinkler systems infuse liquids extensively across homes and businesses. These fire-fighting strategies may result in a need for both fire and water remediation services. Calling us quickly after a fire permits more effective Fire Damage Restoration.
Sometimes small businesses seek to cut costs by undertaking fire cleanup on an in-house basis. From a commercial standpoint, this decision almost always proves a significant mistake. During recent years, significant advances occurred within the cleaning and restoration industries. Today, experts in these fields receive specialized training to help reduce preventable property losses following a variety of different types of calamities.
Why should you entrust the restoration and repair of fire damaged sites to us? First, we possess the expertise required to approach this project in a systematic, organized way. We restore property following many different types of damage (including water damage). We won't omit essential cleaning steps. It makes little sense to undertake an expensive fire cleanup, but to forget to perform all of the tasks required to eliminate hazards in the environment or prevent lingering smoke odors from pervading the premises. Second, our company has invested in high-quality training and specialized cleaning tools. For example, if your fire restoration project requires water damage restoration, we'll utilize high volume water extraction tools to expedite this task. Third, our firm possesses the skills required to actually repair and rebuild fire-damaged locations. Many purely cleaning restoration firms lack this capability.
Customers across this region appreciate the excellent customer service supplied by our company. We appreciate how challenging it may seem to contemplate effective restoration and repair after some types of fire damage. Whether you've sustained the loss of business property or part of your home, recovering from this experience may seem daunting. Choose our company to obtain professional, considerate assistance.
Consider some other advantages we offer, as well:
Experience performing many different types of restoration
Comprehensive fire repair assistance
A trusted local business in the Peach State
Specialized tools and supplies
Fully trained personnel
Fair, up-front pricing
Free estimates
Rapid customer response times
Most property owners obtain no benefits by waiting to undertake restoration and repairs following a fire. In fact, delaying this process often holds considerable risks. It remains important to ensure you maintain safe, attractive premises.
Even comparatively minor electrical fires sometimes release noxious chemicals contributing to a lingering smokey scent. People visiting the site may notice a burned wood aroma clinging to their clothes. This result may even contribute to a reduction in business. Additionally, following a fire, a home or business that failed to undergo damage restoration and comprehensive repairs may fail to command a competitive resale market price.
We strive to furnish rapid, professional, and comprehensive fire damage repair services in North Central Georgia.  Some of the communities within our service area include:
Metro Atlanta, Marietta, Woodstock, Canton, Alpharetta, Smyrna, Kennesaw, Buckhead, & Johns Creek
If you reside in Atlanta or its outlying suburbs, contact us for assistance with all your fire damage restoration and repair needs.
We travel to the customer's location to provide services. As experienced building repair contractors, our skills span a broad range of repair efforts. We'll evaluate each site on an individual basis, and create a customized plan for rendering restoration and repair assistance. Some insurance policies help customers pay for the cost of our services. Today, many insurers recognize the cost-saving benefits of obtaining fast restoration and repair services following a blaze.
Tell Us How We Can Help
Has your property sustained fire damage recently? Request a free estimate. We look forward to helping you!